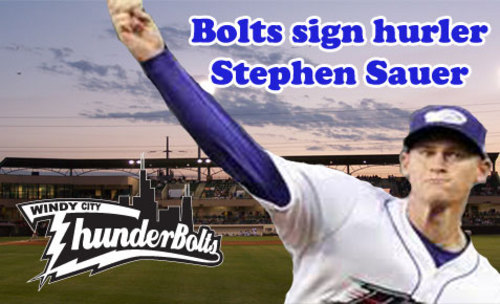 The ThunderBolts have added more pitching depth to their 2012 roster with the signing of Stephen Sauer out of the Chicago White Sox organization.

Sauer will enter the coming season with a career 18-17 record and 4.05 ERA in four seasons as both a starter and reliever in the Sox' farm system.

A native of Las Vegas, Sauer was initially drafted out of Western Nevada College by the Tampa Bay Devil Rays in the 31st round of the 2007 draft. He had been 6-4 with a 3.04 ERA. He elected, instead, to return to college and moved on to Arizona State University.

With the Sun Devils in 2008, he went 4-1 with a 4.56 ERA in 25 games and earned a 10th round selection in the 2008 draft by the White Sox.

In four seasons in the Chicago system, he rose to high-A ball in both 2010 and 2011. His best season came in 2009 when, as a member of Class A Kannapolis, he won six games and finished with 123 strikeouts to just 19 walks. Following that year, FutureSox.com named him one of the White Sox' top 20 prospects.

He won a career-high eight games in 2010. Sauer was 1-0 with a 3.27 ERA in seven games in 2011 between Rookie ball in Bristol and high-A Winston Salem. Injuries plagued his 2011 campaign, but is now 100% healthy and ready to contribute to the ThunderBolts in 2012.

Though this will be Sauer's first appearance in the Frontier League, he does have ThunderBolt connections, having played with former Bolts pitchers Dan Remenowsky, Dylan Axelrod and Brandon Kloess at different times while in the White Sox system.

Make sure you "Like" us on facebook for your chance to win great prizes all season long. Check out our new lower group prices at Standard Bank Stadium. You can now get a Executive Suite with food and beer for just $345! Click Here for Suite Info The Party Box is now down to $200! Click Here for Party Box Info The Aqua Pools Hot Corner spa is now down to $60 without food and $90 with food! Click Here for Hot Tub InfoLook through our website at www.wcthunderbolts.com for information on all group opportunities and to view our new low prices! You can not find these prices anywhere! Our areas fill up fast so reserve your group now.

The Windy City ThunderBolts open their 14th Frontier League season on Thursday, May 17th vs. Joliet with a special one-game homestand fetauring discount beer and post-game fireworks! Season tickets, flex plans, and group outing opportunities are available now! Call 708-489-BALL or check out wcthunderbolts.com for more information!