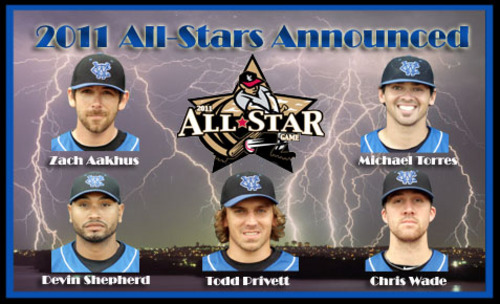 The Frontier League All-Star teams were unveiled on Monday morning, and with five representatives, the Windy City ThunderBolts have their most all stars since their championship season of 2008.
Second baseman Mike Torres, catcher Zach Aakhus and designated hitter Devin Shepherd all were elected to start the All-Star Game and shortstop Chris Wade was voted in as a backup infielder. Pitcher Todd Privett was voted in as well and is also on the shortlist of potential starters. Privett was the leading vote-getter among East Division pitchers.
"They all deserve it," manager Mike Kashirsky said. "They're just incredible guys and incredible players. I couldn't be prouder of them."
Aakhus will be making his third consecutive all-star appearance. He was the starting catcher of the West Division team as a rookie in 2009 before being voted the starter of the East in 2010. In his two previous all-star performances, Aakhus has gone 2-4 with a walk. In 2011, Aakhus is fourth in the Frontier League with a .357 batting average and seventh with 34 RBI. He leads the league with 15 doubles. He is one of two ThunderBolts to have played in every game this year.
Torres is appearing in the game for the second straight year. He was voted in as a reserve third baseman on last year's squad and will be starting for the first time this year. Last year in Southern Illinois, he got one chance at bat and walked. This season, Torres ranks eighth in the league with a .331 batting average. He is sixth with 13 stolen bases.
Shepherd, Wade and Privett will all be making their debut at the Frontier League All-Star Game. Shepherd was picked up by the Bolts on June 3, after he had been released by the Joliet Slammers. Since coming over, he has hit .311 with 12 extra-base hits including a team-high five home runs and has driven in 29 runs.
Wade has started every game at shortstop this year and has been nearly flawless defensively. He began the season on a 20-game hit streak and is batting .303 overall with 10 doubles.
Privett was Windy City's opening day starter and has gone 5-2 with a 2.69 ERA. He currently ranks third in the league and second in the division in both wins and strikeouts. He is eighth in the league and third in the division with his 2.69 ERA.
The manager of the All-Star Game will be selected based on the team with the best record in the division following play tonight, (Wednesday, July 6th). The manager will select three more all stars. The ThunderBolts still have a few hopefuls for the game and with the current division-lead by .5 game over the Joliet Slammers, may see their manager, Kashirsky, in the game as well.
The Frontier League All-Star Game will be played at All Pro Freight Stadium in Avon, OH, home of the Lake Erie Crushers on Wednesday, July 13.