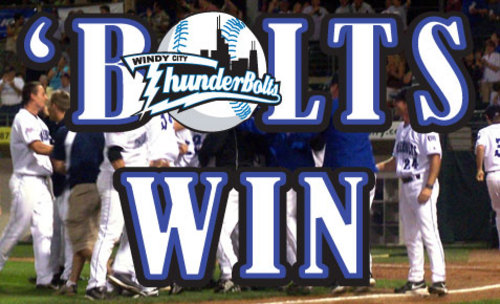 AVON, OH – Dustin Williams pitched a gem and the ThunderBolts homered twice, defeating the Lake Erie Crushers 5-1 in Tuesday night's series finale at All Pro Freight Stadium.
For the second straight night, the ThunderBolts took an early 2-0 lead on a home run. This time it was Chris Wade going deep in the second inning, scoring Chad Cregar, who had singled.
The Bolts added to their lead on another home run in the fifth. Mike Torres hit the first of his career out to right-center. Windy City scored once more in the fifth when Zach Aakhus doubled, stole third and crossed the plate on a Devin Shepherd two-out single.
The ThunderBolts' final tally was posted in the seventh inning. Nick Kuroczko was hit by a pitch and Torres dropped down a bunt single. After Brandon Anderson sacrificed himself to move up the two runners, Aakhus came up. The Crushers tried to intentionally walk him, but Greg Hendrix's third pitch was wild and Kuroczko came in to score the fifth run.
Dustin Williams went in to the bottom of the seventh inning with a no-hitter. He had walked two Crushers, but both had been caught stealing. Patrick Norris however, led off the seventh with an infield single. It was the second time in a week that a ThunderBolts pitcher lost a no-hitter in the seventh inning on an infield single.
A walk and two singles later, Dustin Williams departed, having allowed an RBI hit for Scott Houin. Greg Johnson came in with one out and the bases loaded and got Jason Taylor to line into a double play on a diving Wade catch.
The Crushers did not threaten again against Johnson or Wes Alsup. Williams went 6.1 innings, allowing three walks and three hits and striking out five to earn the win (4-2). Lake Erie starter Jairo Cuevas gave up four runs over five innings and took the loss (0-1).
The Bolts nine-game road trip continues Wednesday night as they take their first trip to Joliet to take on the Slammers. Matt Jernstad (2-3) will start for Windy City. The game starts at 7:05 CDT and can be heard on WXAV 88.3 fm and wxav.com.
Box Score