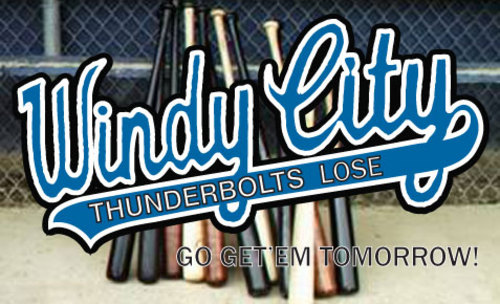 AVON, OH – The Lake Erie Crushers scored four runs in the second inning to defeat the ThunderBolts 5-4 Monday night and secure the series victory at All Pro Freight Stadium.
The Bolts struck first in this one, getting Brandon Anderson aboard on a throwing error in the top of the first. He reached second on another throwing error and made it to third on yet another throwing error. He scored when Zach Aakhus sent a towering home run over the left field wall.
The Crushers answered quickly with a Patrick Norris triple beginning the bottom of the first. He scored on a Nick Mahin single.
The game fell apart for the Bolts in the second inning. The Crushers got six hits in the inning, including five in a row. They got RBI knocks from Zac Messer, Adam Gliebe and Mahin. Windy City starter Bryant Cotton was chased from the game after just an inning and a third, replaced by rookie Mike Scudero.
The ThunderBolts' bullpen was outstanding with Scudero, Kurt Frymier, Donald Jordat and Greg Johnson combining to pitch 6.2 innings and not allowing a run on just three hits.
Windy City crept to within a run in the fourth. Devin Shepherd hit a solo homer to lead off the inning and Chad Cregar followed that up with a double. He scored on a Ryan Basham bunt.
But the Crusher bullpen was as effective as the Bolts'. The combination of Chris Allen, Kelyn Schellenberg and Ruben Flores gave up just one hit over the final four innings and the Crushers came away with the 5-4 victory.
Andrew Weeks picked up the win (3-3). He gave up four runs over five innings. Cotton took the loss (2-2). Flores secured his fifth save.
The Bolts nine-game road trip and three-game series continue Tuesday night as Dustin Williams (3-2) takes the All Pro Freight Stadium mound to face the Lake Erie Crushers and Jairo Cuevas (0-0). The game is set to begin at 6:05 CDT. It can be heard on Sportsjuice.com.
Box Score