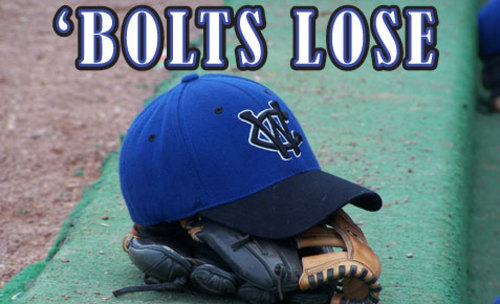 AVON, OH – The Lake Erie Crushers scored two runs in the sixth and two in the seventh to overtake the ThunderBolts and win 6-2 in a rain-shortened game Sunday evening at All Pro Freight Stadium.
The Crushers took an early lead in the third when Chris Luick reached on a two-base error and eventually scored on a Patrick Norris double.
Windy City answered quickly. Facing Paul Fagan, who started the year as a ThunderBolt, they began the fourth with a Brandon Anderson single. After Zach Aakhus walked, Devin Shepherd's flyout advanced Anderson to third. He scored on a Ryan Basham fielder's choice. Chris Wade's double scored Basham from first.
The Bolts led until the sixth inning, when Lake Erie got their first two men on base on a walk and a hit. After a sacrifice bunt, Kellen Kulbacki scored on a Kyle Shaffer groundout and Scott Houin crossed the plate on a Luick single.
As rain started to fall, the Crushers added to their lead in the seventh. A walk and two singles chased Todd Privett from the game, and though Terrance Jackson retired all three batters he faced, two ThunderBolt errors helped Lake Erie add two runs and take a 5-2 advantage into the eighth.
Lake Erie scored once more. In the eighth inning, Shaffer doubled and Luick singled him in, giving the Crushers a 6-2 lead. With Luick at third and two outs, the rain became too much and the game was called one inning prematurely.
Privett allowed five runs over six-plus innings, taking the loss (3-2) and Fagan threw seven innings for the win (1-4).
The Bolts nine-game road trip and three-game series continue tomorrow night as Bryant Cotton (2-1) takes the All Pro Freight Stadium mound to face the Lake Erie Crushers and Andrew Weeks (2-3). The game is set to begin at 6:05 CDT. It can be heard on WXAV 88.3 fm and wxav.com.
Box Score