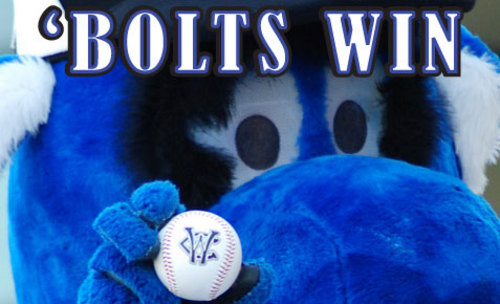 CRESTWOOD, IL – Matt Jernstad did not allow a hit until the fifth inning Sunday night on his way to victory over the Florence Freedom. He and the ThunderBolts took the series from Florence with a 5-2 victory at Standard Bank Stadium.
The game was a pitchers' duel early as the teams combined for just two hits through four innings. The Bolts, however, did crack the scoreboard in the second inning thanks to a two-base error on Chris Curley that put Zach Aakhus on second base. After a sacrifice bunt, Chase Porch scored Aakhus on a sacrifice fly.
In the fourth, the Windy City offense gave their starting pitcher some breathing room when Brandon Anderson led off with a triple. After a Mike Torres walk, Devin Shepherd singled home Anderson and Aakhus's double scored both Torres and Shepherd.
Meanwhile, Jernstad had been shutting down the Freedom offense. He struck out six batters through four innings, and did not give up a hit until a groundball rolled off of Torres' glove with two outs in the fifth. Because of the difficulty of the play, it was ruled a single for Cole Miles.
In the sixth, Jernstad struggled, walking the first three batters of the inning. He was pulled in favor of Greg Johnson, and Johnson did his job, getting Curley to line into a double play and forcing Drew Rundle to fly out to center.
Windy City got an insurance run in the seventh when Aakhus singled, stole second and scored when Chris Wade's grounder kicked off the glove of Curley for a two base error.
Things tightened up in the ninth, as the Florence offense, which had mustered just two hits through eight innings, burst through for two runs and four hits. But with the bases loaded and one out, Wes Alsup struck out both Jimmy Baker and Stephen Shults for the victory. Alsup fanned three total in the inning.
Jernstad improved to 2-1 with the win and Preston Vancil, who lasted just 4.1 innings, fell to 0-2.
After a Monday off, the ThunderBolts hit the road Tuesday for six games beginning with three in Evansville. Tuesday's 6:35 game will feature Dustin Williams (3-0) pitching for the Bolts. The broadcast can be heard from Bosse Field on SportsJuice.com with a 6:15 pregame show.