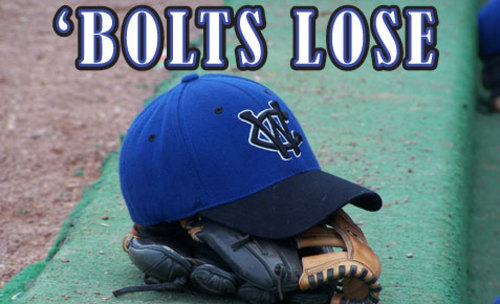 CRESTWOOD, IL – The thunderbolts lost a ninth-inning lead Thursday night, and after a 37-minute rain delay, fell to the Evansville Otters 8-5 at Standard Bank Stadium.
The game started well for Windy City when they scored a pair of first-inning runs on just one hit. After back-to-back one out walks, Mike Torres and Ryan Basham pulled off a double steal and scored on a Zach Aakhus sacrifice fly and Nick Kuroczko single, respectively.
The Otters came right back with four runs in the second off of Bolts starter Matt Costello. A hit batter and a walk started the trouble, but four straight singles, including RBI from Korby Mintken, Greg Burns and Joe Spiers gave Evansville the two run lead.
Windy City got one back in the third when Michael Anton, who gave eight free passes in 3.1 innings, walked three, including Chase Porch with the bases loaded.
The next inning, Ryan Basham singled home Brandon Anderson to tie the game at four. The Bolts had plenty of baserunners in the early innings, but stranded seven in the first four.
Finally the ThunderBolts reclaimed the lead on a wild play in the sixth. Anderson doubled to center field. On Burns' throw back to the infield, the ball soared into the ThunderBolts' dugout and Anderson was awarded two extra bases and the go-ahead run.
Thanks to six great innings by the Bolts' relief corps, they carried that 5-4 lead into the ninth. But Bradley Blanks, on for his third save, could not hold the lead. After a walk and a hit batter, Mintken singled in the tying run. The next batter, Burns, doubled home two more to give the Otters a 7-5 advantage. Burns later scored on a Chase Porch throwing error.
As Torres stood in to bat beginning the bottom of the ninth, rain started to fall, and time was called. The Bolts and Otters sat through a 37-minute rain delay before play was resumed. Windy City could not mount a rally and the final score was set at 8-5.
Patrick Crider threw 1.2 perfect innings for the win (1-0) and Blanks took the loss (0-1). Eric Massingham earned his first save.
The Windy City baseballers will continue their homestand tomorrow as the Florence Freedom come to town for the only time in 2011. Budweiser Fill 'R Up Friday means $1.00 domestic draft beers. The pitching matchup will feature Windy City's Todd Privett (2-0) against Florence's Tim Holmes (1-0). The action will be broadcast on SportsJuice.com with pregame beginning at 6:45 CDT.