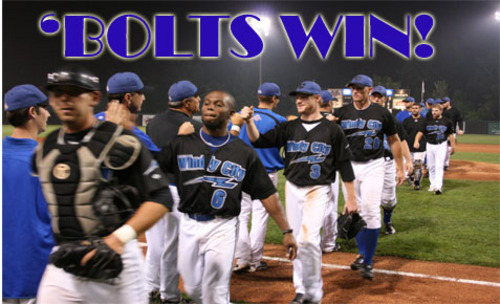 The ThunderBolts did not waste much time in showing off their new offense at Standard Bank Stadium Thursday night. They used a seven-run second inning to propel them to a 9-1 victory over the Lake Erie Crushers in the season opener.
Lake Erie got on the board first when Nick Mahin singled with two outs in the second. He reached third on a wild pitch and a throwing error by catcher Zach Aakhus, and scored on a Patrick Norris single.
It was all ThunderBolts from there. They responded quickly, loading the bases on three straight singles. With two outs, Josh Womack picked up his first ThunderBolts hit, a two-run single that gave the Bolts the lead. After Brandon Anderson walked to re-load the bases, Ryan Basham cleared them again with a three-run double. A single for Aakhus and a double for Garret Regan finished the inning with Windy City up 7-1. The Bolts added single runs in the fourth and fifth on RBI doubles for Basham and Chase Porch respectively.
Todd Privett got the start for Windy City and was excellent. With the aid of four double plays, he allowed just one unearned run in six innings of work. He struck out one and allowed two walks and six hits. Matt Jernstad followed Privett and went the final three innings. Though Jernstad figures to be part of the starting rotation this season, he picked up his second career save by recording the final nine outs.
The Bolts and Crushers are back in action Friday night at Standard Bank Stadium. Lake Erie will start Travis Risser (8-4, 2.70 in 2010). Windy City has not yet announced a starter. It is a 7:05 start time and a $1.00 beer night for Budweiser Fill 'R Up Friday. If you can not make it to the park, the game will be broadcast on WXAV 88.3 fm and wxav.com.