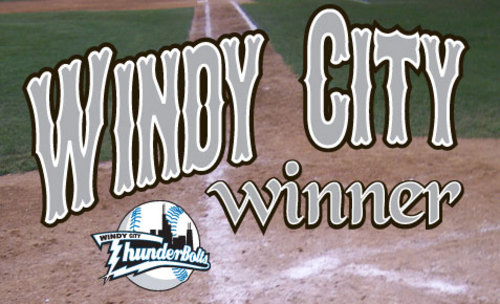 (CRESTWOOD, IL) – In the final home game of the 2010 regular season, the ThunderBolts defeated the Washington Wild Things 8-7 in a wild back-and-forth contest. Windy City finishes the season with a 35-15 home record.
For the third time in the series, the Wild Things scored first. John Delaney's solo homer in the second put them up 1-0 and Chris Sidick made it 2-0 the next inning when he singled, stole third and took home on a throwing error.
The ThunderBolts made their first comeback in the fourth. Brandon Anderson singled and stole second. He scored on Gilberto Mejia's single. Mejia came in on Zach Aakhus's double, tying the game.
In the fifth, Andrew Werner walked the bases loaded before Wilson Matos's two-out two-run single gave the Things a 4-2 advantage. Windy City came back with two in the sixth. With catcher Jared Dyer playing left field for the injured Mark McGonigle, The Bolts hit two balls in his direction that were misplayed for doubles. Aakhus and JT Restko were the recipients of the two-base hits.
The Bolts appeared to run away in the seventh. All nine hitters came to the plate in a four-run inning that materialized despite just two hits. Washington reliever Kevin Hammons walked two and hit two more batters. Mike Mooney, Aakhus and Mejia had RBI in the inning.
After the Wild Things scored once in the eighth, they made it really interesting in the ninth against Bolts closer Nick Hall. Hall walked Sidick to begin the inning, and with one out, gave up three straight singles to make it a one run game. Matos stood at third and Eric Stephens was at first when Hall struck out Jared Dyer and forced John Delaney to groundout to short to end the threat and the ballgame at 8-7.
Ryan Quigley (4-4) earned the win out of the bullpen and Hammons (5-4) took the loss. It was Hall's 15th save.
The ThunderBolts sit in first place, two games ahead of Traverse City, whom they will take on in their next game Tuesday night. The magic number for the playoffs is three. Brent Solich (7-6) will start at Wuerfel Park for Windy City against Michael Moore (8-5) in Tuesday's game, which will begin at 6:05 CDT. The game can be heard on WXAV 88.3 fm and wxav.com.