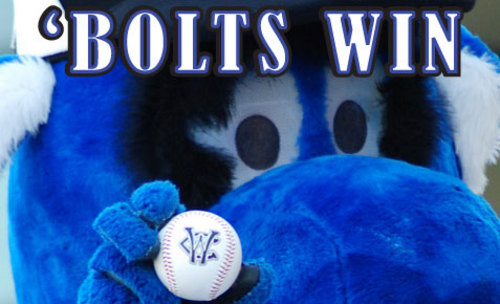 (CRESTWOOD, IL) - It took a late-game comeback, but the ThunderBolts won their 19th consecutive home game Tuesday night, 3-2 over the Oakland County Cruisers at Standard bank Stadium.
The Cruisers came into the series one game behind Windy City for first place in the East Division. For most of the game, it looked like they were going to jump into a tie.

After Windy City starter Andrew Werner retired the first eight Oakland County batters, the first hit of the game was secured by Tyler Rogers, an infield single. He stole second and came in to score on a Zach Pace single.
The Cruisers made their lead 2-0 in the sixth when Jeremy Jones walked and Robbie Tolan hit a liner to right. When Mike Mooney tried to throw Tolan out at second, his throw flew by Michael Torres and allowed Jones to score.
The ThunderBolts had just two singles through five innings, but broke through against Wayde Kitchens in the sixth. Ryan Basham and Zach Aakhus hit back-to-back doubles to cut the deficit to one. Then the real damage came in the seventh. They tied the game on a Nick kuroczko single, driving in Jim Calderone, who had come in as a pinch runner after Jeremy Hamilton's double. Against a new pitcher, Adam Dominick, Brandon Anderson singled to put two men on, and with two outs, Basham's single brought in the go-ahead run, Kuroczko.
Brandon Garner pitched a scoreless eighth inning and Greg Johnson got the final three outs for his third save of the year, giving the ThunderBolts the two game divisional lead with 11 games to be played. Werner got the win (10-4) while Kitchens took the loss (5-6).
The big series against Oakland County continues on Wednesday. Brent Solich (6-6) will take the hill for the ThunderBolts. For the second straight night, tickets for the game are buy one-get one free, and first pitch is scheduled for 7:05. The game can be heard on Sportsjuice.com.