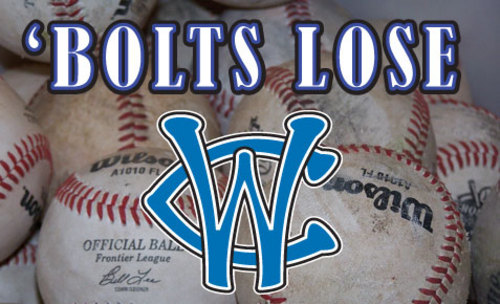 Nick Sottung threw six strong innings for the Evansville Otters as they completed a three-game sweep of the ThunderBolts with a 5-1 victory Thursday night at Bosse Field.
For the second straight night, the Otters took an early advantage when they scored a run in the second inning. Derek Wiley, who had singled, scored with two outs on Billy Killian's RBI single.
The Bolts answered quickly with a run in the third. Michael Torres led off with a walk and made it around to third with one out before Nick Kuroczko grounded back to the pitcher. Torres was caught in a rundown and was tagged out between third and home, but allowed Kuroczko to reach second on the play. Brandon Anderson's single on the next pitch scored Kuroczko.
Alas, that was the only damage the ThunderBolts offense would do in the game as Sottung and a slew of relievers held the Bolts down the rest of the game.
The Otters took the lead to stay in the third when they loaded the bases with one out. Derek Wiley hit a grounder to third and Kuroczko came home with it, but the throw pulled Mitch Saum off home plate, allowing Greg Alexander to score. They added a run on a Jon Waltenbury sacrifice fly.
Waltenbury's fifth inning double and seventh inning sac fly capped the scoring as Evansville went on to their third consecutive win over the ThunderBolts. Sottung improved to 6-1 with the win. Brent Solich allowed four runs in six innings and fell to 6-6, his first loss since July 10.
The Bolts return home Friday night for the start of a nine-game home stand, their final home stand of the year. Windy City has won 15 straight at Standard Bank Stadium and look to continue that mark against the Florence Freedom. Richard Barrett (7-2) will get the start for the ThunderBolts against Florence's Tim Holmes (3-7) in a rematch of last week's 8-1 Windy City victory. The game starts at 7:05 on Pet Night in Crestwood. It is also $1.00 beer. The game will be broadcast on WXAV 88.3 fm and wxav.com.