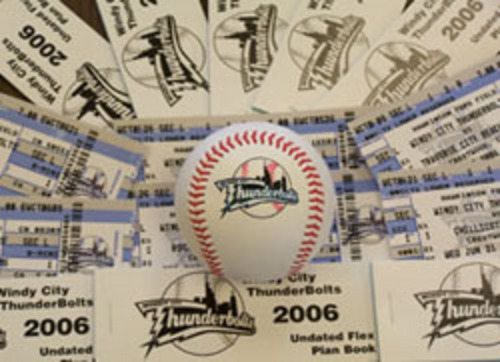 Crestwood, IL - Windy City ThunderBolts mini plan holders can now pick up their Top 10 Promo Plans and Undated Flex Plans at Hawkinson Ford Field. Undated Flex Plan holders have the opportunity to exchange their vouchers for tickets before single game seats go on sale to the general public. The exclusive exchange period starts on Friday, March 17 and ends on Thursday, March 23.
The box office will be open from 8AM-5PM on March 17. Starting on Saturday, March 18, the box office and merchandise store will be open from 10AM-2PM. The box office hours for the week of March 20-24 will be extended to 8AM-6PM.
Top 10 Promo Plans and Undated Flex Plans can be purchased for only $70.00 each. The Top 10 Plan features the ten biggest promotional games of the season. The Flex Plan is a book of ten undated vouchers that can be exchanged for tickets to ThunderBolts regular season home games, based on availability.
Single game tickets will go on sale at 8AM on March 24 and can be purchased at the ThunderBolts box office, over the phone by calling 708-489-2255, or online at ticketmaster.com. A lower deck box ticket costs only $8.00. Hawkinson Ford Field features one of the few upper decks in minor league baseball and an upper deck seat is just $7.00.
The merchandise store will also feature discounts for ticket buyers in the coming days. Mini plan holders who do a voucher exchange or pick up their tickets between March 17 and March 25 will receive 25% off in the store. All fans who purchase single game tickets on March 24 or March 25 will also be able to take advantage of the 25% savings. The discount is good only the day that tickets are purchased or vouchers are exchanged.
Full season tickets, skybox suites, group outings, birthday parties, and Kids Club memberships are currently on sale and can be purchased by calling the ThunderBolts office at 708-489-2255. For the latest team news and schedule info, please visit www.wcthunderbolts.com. The Windy City ThunderBolts are a member of the 10-team Frontier League. The Frontier League is an independent league with teams throughout the Midwest.