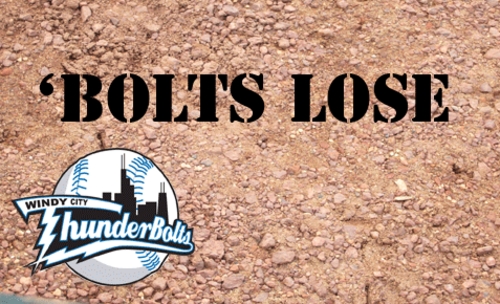 Brandon Cohen's walk-off home run on the first pitch of the ninth inning sent the ThunderBolts to a 4-3 defeat at the hands of Cohen's Florence Freedom at Champion Window Field on Friday night.
The starting pitchers, Brent Solich for the ThunderBolts and Andy Clark for the Freedom, controlled the game early. The scoreboard did not light up until the top of the fourth when, with two outs, Michael Torres's single to right scored Zach Aakhus and Jeremy Hamilton.
The 2-0 score held until the sixth when Brent Solich was hit hard for the first time. Jimmy Baker drove his 14th home run of the season out to left-center bringing Florence to within one. The next inning, Cohen homered to tie the game before Justin Holloway doubled and scored on Patrick Rose's infield single to give Florence their first lead of the game, 3-2.
Solich exited after seven innings, allowing three earned runs. Clark was just a little better, going eight and allowing two earned runs. He allowed just one base runner and no hits beyond the fourth.
Ben Shivers came on for the ninth to try to lock up the save, but his 1-0 pitch to leadoff hitter JT Restko was hit well over the left field wall to tie the game at three. The Bolts got two more runners on base in the ninth, but could not take the lead.
Brandon Garner entered for Windy City, but his first pitch ended the game on Cohen's second long ball of the night. The loss dropped the ThunderBolts to 1-11 in series openers on the road.
The ThunderBolts and Freedom square off in game two of the series on Saturday night. First pitch is scheduled for 5:05 CDT with Richard Barrett (6-2) scheduled to oppose Florence's Ryan Moore (0-2). The game from Kentucky can be heard on Sportsjuice.com.