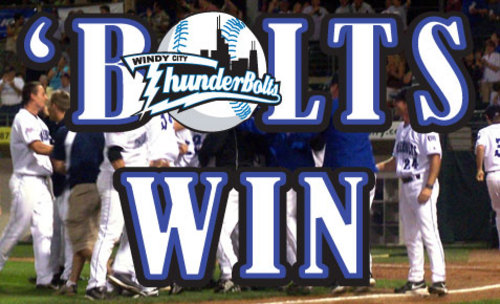 A four-run fifth inning propelled the ThunderBolts Thursday night to their third consecutive perfect home stand as they defeated the Evansville Otters 7-2 at Standard Bank Stadium.
The Otters scored the first run of the game in the fourth when former ThunderBolt Vinnie Scarduzio singled in Toby Davis off of former Otter Andrew Werner, but the Bolts quickly retaliated.
After Zach Aakhus reached on a strike three wild pitch in the bottom of the fourth with two outs Mike Mooney hit a fly ball to left that Jeff Hanson lost in the lights it dropped for a game-tying RBI double.
Then in the fifth, the Bolts broke the game open. Chris Peters had allowed only the Mooney double and an infield single through four, but in the fifth, Windy City collected five hits including an RBI triple from Nick Kuroczko and RBI singles from JT Restko and Gilberto Mejia.
The ThunderBolts tacked on two more runs in the sixth. After back-to-back walks to Michael Torres and Jim Calderone, Peters was pulled from the game. Kent Worthington, making his pro debut, allowed both runners to score on a Brandon Anderson single and a Mejia groundout. That made the score 7-1.
Werner pitched seven strong innings, retiring the last seven batters he faced. Greg Johnson pitched a scoreless eighth and the Otters did not score again until the ninth when Scarduzio doubled in another run. The Bolts starter improved his record to 9-3. Peters dropped to 1-10 with the loss.
The ThunderBolts head to the road now for a six-game trip beginning Friday night at Florence. The Freedom send their ace, Andy Clark (7-3) to the mound against Windy City's Brent Solich (6-5). Game time is 6:05 CDT and the game will be broadcast on WXAV 88.3 fm and WXAV.com.