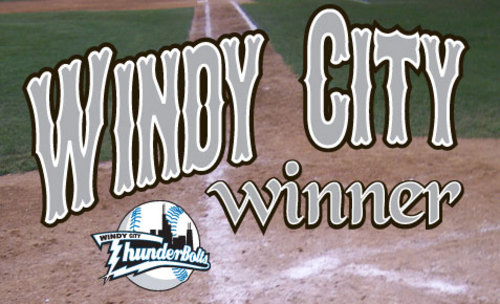 The ThunderBolts took advantage of Jonny Bravo's control issues early and withstood a Traverse City rally late for a 6-5 victory at Standard Bank Stadium Sunday night, their twelfth in 13 games.
The ThunderBolts scored four times in the first inning as Beach Bums starter Bravo walked four batters and hit one more. RBI came from Zach Aakhus on an infield single, Jeremy Hamilton on a double, JT Restko on a fielder's choice and Nick Kuroczko when he was hit by a pitch.
The Beach Bums got a solo homer from Chase Burch in the third inning to make the score 4-1, but the Bolts came back with a solo shot of their own in the fifth. Aakhus's third home run in as many days and it pushed the lead to four once more.
Windy City achieved their biggest lead in the sixth inning when Brandon Anderson singled and stole second. He reached third on a Ryan Basham single and scored on a wild pitch from reliever David Slovak.
Andrew Werner pitched well for the ThunderBolts, allowing two runs over seven innings. Traverse City scored in the seventh on a Jason Codiroli RBI double. Ryan Quigley pitched a scoreless eighth but struggled in the ninth. After three straight Beach Bum singles, two on the infield, Quigley walked Chris Engell and was pulled in favor of closer Nick Hall. With Hall pitching, Matt Brown hit a sacrifice fly and Michael Diaz doubled in a run, cutting the ThunderBolt lead to one with runners at second and third and only one out. Chase Burch, though, lined out to short and JT Hall grounded to second, both on just one pitch, and Hall narrowly came away with his tenth save of the year.
Andrew Werner equaled the league lead with his eighth win (8-2) and Bravo dropped his first game of the season (3-1). The win put the Bolts alone in second place in the Frontier League East.
The series concludes on Monday morning as the ThunderBolts play the last day game on their home schedule on Senior and Chamber Day. The game starts at 11:05 a.m. and can be heard live on WXAV 88.3 fm and wxav.com.