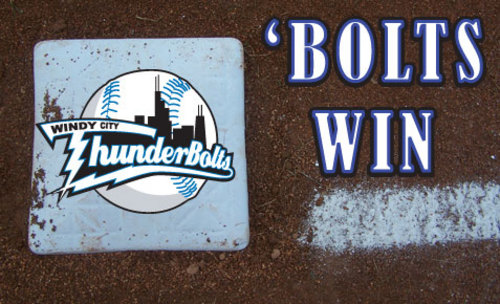 After a brief respite from their winning streak, the ThunderBolts got back on track with a 3-2 victory over the Kalamazoo Kings on Thursday night at Homer Stryker Field in Kalamazoo.
Despite the final result, the game did not start well for the Bolts, who fell behind 2-0 in the first inning. Eric Suttle singled and scored on a Matt Greener double. Greener came in on Lee Rubin's RBI single.
ThunderBolts starter Richard Barrett settled in after that. He did not allow another run over his six total innings of work. The only other spot of trouble for Barrett came in the bottom of the sixth when the Kings loaded the bases on a hit and two walks with two outs. Barrett forced JJ Sferra into a groundout to end that threat.
For the fourth game in a row, Windy City was compelled to play comeback. They answered Kalamazoo's early two runs with one in the top of the second. Pete Paris walked, moved to third on a Ryne White single and scored on Michael Torres's sacrifice fly. The ThunderBolts did not score again until the sixth. With one out, Ryan Basham and Jeremy Hamilton each singled and Zach Aakhus walked to load the bases. A Paris single and White sac fly gave the Bolts a 3-2 lead.
Greg Johnson pitched two solid innings of relief to hold the score where it was. Brandon Garner came out for a rare save opportunity in the ninth instead of regular closer Nick Hall and faced a tough spot with a runner on second and one out, but he got Matt Maloney to fly out and Greener to ground out to end the game, giving Garner his second save and the Bolts seven wins in eight matchups with Kalamazoo.
The rubber match of the series will take place on Friday night at 6:05. Former Gateway teammates Sean Toler (2-0) and David Goodenough (Kalamazoo debut) will be dueling as the game's pitchers. That contest can be heard on Sportsjuice.com.