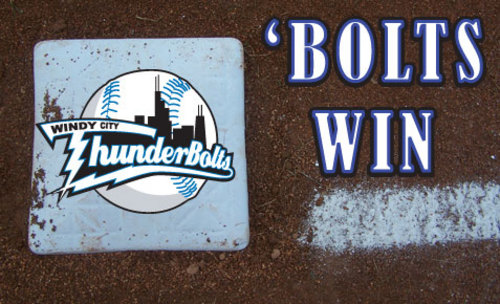 Behind six great innings from Dustin Williams and a quick strike offense, Windy City won their third straight on Tuesday night, 9-3 over the River City Rascals at Standard Bank Stadium.
Williams picked up the first win of his pro career, not allowing a hit until Stephen Holdren's two-out double in the fourth. Despite not allowing more than three runs in any of his first three starts, he came in with a record of 0-2. Tuesday, he left nothing to chance, not giving up any runs on just two hits over six innings.
As it turned out, he didn't even need to be that good as the Bolts offense stormed to an 8-0 lead by the third inning. Gilberto Mejia singled in Guillermo Martinez in the first giving Windy City a 1-0 lead. They added two runs in the second when Mike Torres and Donnie Ecker each singled and moved to third and second base on an error. Dan Jordan singled them both in, two of his three RBI in the night.
The game was effectively put away in the third. The Bolts batted around and scored five runs on five hits. Ryne White, Torres and Jordan came up with RBI hits in the making it an 8-0 game.
River City got all three of their runs in the seventh off of reliever Ricky Meinhold. Caleb Curry knocked in two runs on a double and scored on a subsequent Doug Sanders single. Meinhold pitched a scoreless eighth, though, and Greg Johnson pitched the ninth to secure the victory. The ThunderBolts added a run in the eighth on a Ryan Basham RBI double.
Williams picked up the win, improving to 1-2 and Tony Marsala took the loss (4-4), lasting just 2.1 innings.
The ThunderBolts and Rascals duel in game two of this three-game series on Wednesday night at 7:05. Brent Solich (2-3) takes the mound for Windy City and he will be opposed by Ryan Zink (1-0). The game can be heard live on WXAV 88.3 fm.