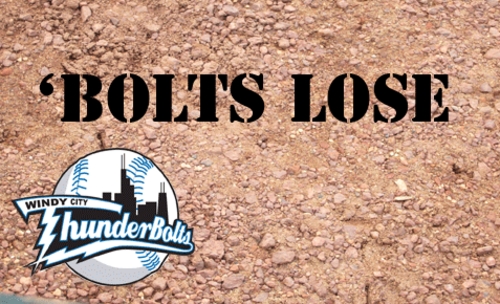 Ryan Kussmaul threw six shutout innings and the Southern Illinois Miners snapped the Windy City ThunderBolts five game winning streak with a 1-0 victory Friday night at Standard Bank Stadium in Crestwood.
Brent Solich got the start for Windy City and was brilliant through six innings. He allowed just one bloop single during that stretch and carried his shutout into the seventh. Kussmaul, though, matched him nearly pitch for pitch. The Southern Illinois righty did face his share of trouble, with Windy City putting runners aboard in each of the first five frames, but he was always able to pitch out of it.
The Bolts had a great scoring chance in the third when they put a runner on third with one out, and again in the fifth when they loaded up the bases with only one out. But Kussmaul struck out J.T. Restko both times and got Tim Alberts in the fifth to get out of those jams.
The Miners finally broke through in the seventh with a Stephen Head one-out double. Two batters later, Ernie Banks knocked him in on a single and gave the Miners the only run they would need.
Windy City had one more chance in the ninth against Miners closer Mike Damchuk. With Donnie Ecker at second base and two outs, Kent Gerst slapped a single to right field. Ecker tested Head's arm, but was thrown out in a close play at the plate sealing the victory for Southern Illinois. Overall in the game, the ThunderBolts stranded eleven runners. Two bright spots came from Solich who threw 6.2 innings of one run ball and Ecker who collected four hits.
The ThunderBolts and Miners do battle in game two of three Saturday night. The Bolts have not yet announced a starter to oppose the Miners' Joe Augustine (3-0). Game time is 7:05 with a pregame broadcast at 6:45 on WXAV 88.3 fm.