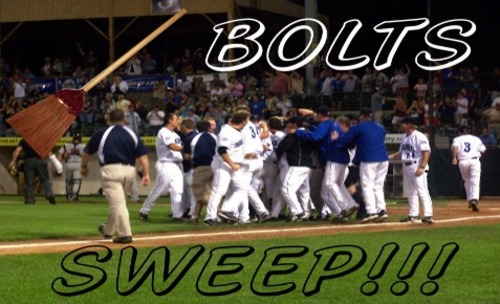 Behind two ninth inning runs, the Windy City ThunderBolts completed a three game sweep of the Normal CornBelters Thursday night with a 9-7 victory.
For the first time in the series, Normal touched home plate first. They scored single runs in the first and second innings, despite collecting only one hit. Bolts starter Rob Roth, who was ultimately pulled in the third, walked four in the first two innings.
Windy City took the lead, though, in a wild third inning. The first four hitters reached, including Kent Gerst, who drove in two runs on a single. Mike Sullivan's sacrifice fly made it 3-2, Windy City. J.T. Restko and Tim Alberts followed him up with back-to-back doubles. After Normal starter Kevin Kreier was pulled, the ThunderBolts got one more on a Zach Aakhus double that scored Alberts, but ended the inning when Donnie Ecker was thrown out trying to score from first. After the Bolts put up a six spot, Normal had a big third of their own. The CornBelters also batted around and got RBIs from Mike Garcia and Eric Brown as well as a solo home run from Daniel Cox to tie the game back up at six.
Windy City grabbed the lead right back in the fifth. With runners at second and third, Mike Sullivan attempted a bunt that was fielded by pitcher Jason Furrow. Furrow tried to nail Guillermo Martinez at home, but threw the ball away allowing the seventh ThunderBolts run. Windy City proceeded to load the bases before ending the inning with just the one run.
Despite not collecting a hit beyond the third, Normal added one more run in the seventh on two hit batters, a walk and an Andre Alvarado sacrifice fly to tie the game at seven. But in the ninth, poor defense once again did in the CornBelters. With Gerst at second and Sullivan at first, Restko hit a groundball to second that looked like a sure double play, but Eric Brown threw the ball into left field and Gerst came around to score the winning run. The Bolts tacked on another in the ninth for the 9-7 victory. Greg Johnson picked up the victory (1-0) while Mike LaLuna took the defeat (0-2).
Windy City heads home on Friday to begin a three game series with the Southern Illinois Miners. The Bolts will be sending Brent Solich (1-1) to the mound against the Miners' Ryan Kussmaul (0-1). Game time is 7:05 with a pregame broadcast at 6:45 on WXAV 88.3 fm.