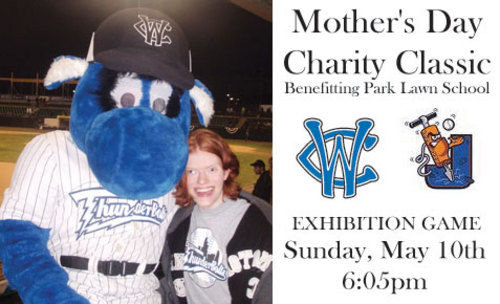 Two southwest suburban based minor league baseball teams will face off this Mother's Day, with all of the ticket sales proceeds going to benefit Park Lawn School and Activity Center in Oak Lawn. The two-time defending Frontier League Champion Windy City ThunderBolts will take on the Joliet JackHammers in the 2009 Mother's Day Charity Classic on Sunday, May 10 at 6:05p.m. at Standard Bank Stadium in Crestwood.
If you are looking for a fun-filled and affordable way to celebrate after a traditional brunch or dinner with Mom, the battle between the Frontier League ThunderBolts and the Northern League JackHammers could be the perfect Mother's Day treat. The 2009 Charity Classic will be the debut of the ThunderBolts' value concession menu, featuring hot dogs, popcorn, and fountain soft drinks for $1 each. It will also include a 50/50 split the pot raffle and all the pre-game and between-inning family fun ThunderBolt fans have come to enjoy. The ballgame will be broadcast live to the Southland on the ThunderBolts' new flagship station, WXAV 88.3 FM.
The best part about the evening, however, is the opportunity to help Park Lawn School and Activity Center, a non-profit organization, to continue to provide programs and services for individuals with developmental disabilities. This is the second year that the ThunderBolts have teamed up with Park Lawn for this event and they hope the excitement of a local rivalry will make this year's Charity Classic an even bigger success than last year.
All tickets are five dollars in advance and six dollars at the gate. Tickets are available before the game at Park Lawn School and Activity Center, 10833 S. LaPorte in Oak Lawn or at Standard Bank Stadium, 14011 S. Kenton Avenue in Crestwood. Tickets are also available online at www.wcthunderbolts.com.
"We are honored that we are able to partner with Park Lawn on our Charity Classic for a second consecutive season," commented ThunderBolts general manager Steve Tahsler. "While it is good for us to do a test run of our operations and give our fans their first glimpse of the club, it is most important that we raise funds for Park Lawn, an organization that has been helping families in the south suburbs for over 50 years."
The ThunderBolts will continue their pre-season schedule with a double-header at noon on Tuesday, May 12 at Standard Bank Stadium against the Rockford RiverHawks before visiting Rockford for two games on Saturday, May 16. The 2009 regular season opens on Thursday, May 21 with a 7:05 p.m. home game against Rockford.
For additional information about the 2009 Charity Classic (Mothers To Benefit Park Lawn), visit www.wcthunderbolts.com or contact the team at 708-489-BALL (2255). To learn more about Park Lawn School and Activity Center visit their website at www.parklawn.com or call 708-425-6867.