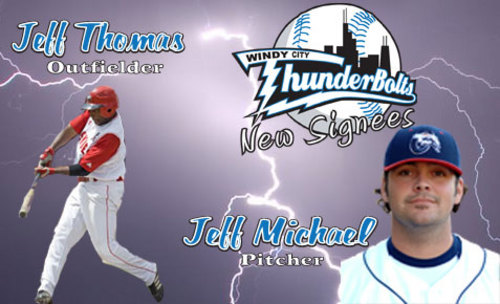 THUNDERBOLTS CONTINUE TO BUILD SPRING TRAINING ROSTER
Crestwood
, IL
–
With Frontier League spring training camps opening in just over two weeks, the Windy City ThunderBolts, 2007 and 2008 champions, continue to tweak their roster. The ThunderBolts have announced the signing of right-handed pitcher Jeff Michael and outfielder Jeff Thomas while granting right-handed pitcher/infielder Amos Ramon's request for his release.
Jeff Michael comes in with two years of professional experience, most recently pitching for the Chillicothe Paints in the Frontier League last season. Overall in his professional career, Michael is 2-3 with a 6.23 ERA in 44 games over the course or two FL seasons. He has also pitched for the Evansville Otters and Washington Wild Things.
The 6'4", 230-pound Michael was teammates with ThunderBolts' outfielder Mike Sullivan at Ball State University in Muncie, IN, going 4-0 in 22 games out of the bullpen in 2006, helping to lead the Cardinals to their first ever MAC Tournament Championship and their first College World Series appearance since 2006.
Jeff Thomas will be making his professional debut this summer. The Northern Illinois University product had signed with the Ottawa Voyagers of the Can-Am League, but became a free agent when the club suspended operations earlier this month. Thomas led the Huskies with a .350 batting average in 2008 to go along with ten doubles, two home runs, 34 RBI, and 16 stolen bases. He finished his career at Northern Illinois with a .291 average.
"We received good reports on Jeff from college and Frontier League opponents and expect him to battle for a spot in our bullpen," commented ThunderBolts general manager Steve Tahsler. "Jeff had a tremendous senior season and adds an interesting dimension to our outfield mix."
The Windy City ThunderBolts open the 2009 season on Thursday, May 21 at Standard Bank Stadium in Crestwood. For more information, please visit us online at www.wcthunderbolts.com or contact the ThunderBolts at 708-489-BALL or [email protected]