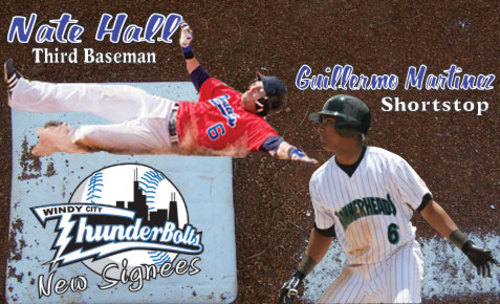 THUNDERBOLTS COMPLETE MOVES TO STRENGTHEN INFIELD
Crestwood, IL –
The Windy City ThunderBolts professional baseball team, 2007 and 2008 Frontier League Champions, have announced the signing of shortstop Guillermo Martinez, who spent the past three season in the Florida Marlins' organization, and the receipt of third baseman Nate Hall in a trade with the Worcester Tornadoes of the Can-Am League in exchange for a player to be named later.
Martinez
spent the 2008 season with the Jupiter Hammerheads, Florida's high-A affiliate in the Florida State League. He finished with a .201 batting average with 16 RBI in 61 games. For the Greensboro Grasshoppers of the South Atlantic League in 2007, Martinez posted a .263 average in 44 games with a .977 fielding percentage after posting a .193 mark during his professional debut with the Jamestown Jammers of the New York-Penn League in 2006.
Martinez
hit .306 with 14 doubles, four home runs, and 50 RBI in 60 games for South Alabama during the 2006 season, and led the Jaguars to the NCAA Tournament in both the 2005 and 2006. Prior to attending South Alabama, Martinez was drafted in the 17th round by the Chicago White Sox out of Coral Park High School in Miami in 2003.
Nate Hall made his professional debut with the Ottawa Rapidz of the Can-Am League last summer, hitting .263 with 22 RBI in 51 games. Hall was selected by Worcester in the Can-Am League's dispersal draft earlier this month after the Ottawa and Atlantic City organizations suspended operations for the 2009 season.
Hall came to Ottawa after completing his career at North Carolina-Wilmington, where he hit .348 with 19 doubles, 13 home runs, and 66 RBI during his senior season, finishing second on the Seahawks in batting average and RBI, tied for first in doubles, and third in home runs. Hall was selected First Team Colonial Athletic Association and led UNCW to the CAA regular season title and conference record for wins in a single season along with a berth in the NCAA Tournament.
"It will be a challenge to replace two-time All-Stars in Wes Long and Josh Horn at shortstop and third, but the reports we have on Guillermo and Nate indicate that they are up to the task," commented ThunderBolts' general manager Steve Tahsler. "We heard good things from our former field manager Andy Haines on Guillermo's performance with the Marlins, and Tommy Thompson has worked to acquire Nate all off-season. Both Guillermo and Nate have similar backgrounds to Wes and Josh when they first joined the ThunderBolts, and we expect them to have the same success."
The Windy City ThunderBolts open the 2009 season on Thursday, May 21 at Standard Bank Stadium in Crestwood. For more information, please visit us online at www.wcthunderbolts.com or contact the ThunderBolts at 708-489-BALL or [email protected]