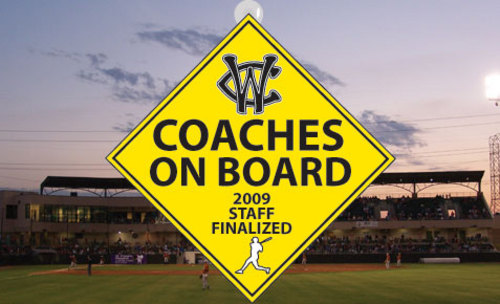 THUNDERBOLTS FINALIZE COACHING STAFF FOR 2009
Crestwood, IL –
The Windy City ThunderBolts professional baseball team, 2007 and 2008 Frontier League Champions, have announced their coaching staff for the 2009 season, as new field manager Tommy Thompson has brought in a staff with independent league experience to aid him during his first season in the Frontier League.
Greg Mucerino has been hired as hitting coach for the ThunderBolts. Greg spent the 2007 season as the hitting coach for the Bradenton Juice of the South Coast League, leading the team to the third best record in the league despite spending all but three games on the road. Greg was rewarded for his success with the Juice by being named field manager for the Aiken Foxhounds for the 2008 season before the South Coast League ceased operations. Greg is currently the head baseball coach at Calvary Christian Academy in Fort Lauderdale and previously was the head coach at Westminster Academy in Miami. He also has extensive college coaching experience, including stints at the College of Charleston, The Citadel, and Loyola University-New Orleans. A first baseman during his playing career, Greg spent time in the San Diego Padres organization and the independent Western League.
Billy Bryk joins the ThunderBolts as pitching coach after spending the 2008 season on the staff of the Edmonton Cracker-Cats of the Golden League. Billy began last summer as the Cracker-Cats' bench coach before being promoted to pitching coach midway through the season. Edmonton won the Golden League's North Division title while finishing with the best team earned run average in the circuit. Billy, who pitched at South Suburban College, began his coaching career in 2007 as the bullpen catcher for the Brockton Rox of the Can-Am League.
Returning for his sixth season as bench coach is former Chicago White Sox farmhand and Cook County Cheetah outfielder Mike Kashirsky. Mike took over as interim field manager after Brian Nelson left the team at the All-Star Break last season and posted a 37-14 record, including winning 34 of his last 40 games in leading the ThunderBolts to a successful defense of their Frontier League title. Mike is currently the head coach at Robert Morris College, where he has the Eagles nationally ranked for the first time in school history.
Also back with the ThunderBolts is bullpen coach Pascual Santiago. Pascual serves as pitching coach at Robert Morris College and previously served on the staffs at Olive Harvey College, Moraine Valley College, and Lewis University.
"Greg is an outstanding baseball mind whom I have known for several years, and Billy comes from a good baseball family," commented new ThunderBolts field manager Tommy Thompson. "Their experience in independent baseball plus the return of Mike and Pascual to the staff will be a huge help during my first year in the Frontier League."
The Windy City ThunderBolts open the 2009 season on Thursday, May 21 at Standard Bank Stadium in Crestwood. For more information, please visit us online at www.wcthunderbolts.com or contact the ThunderBolts at 708-489-BALL or [email protected]