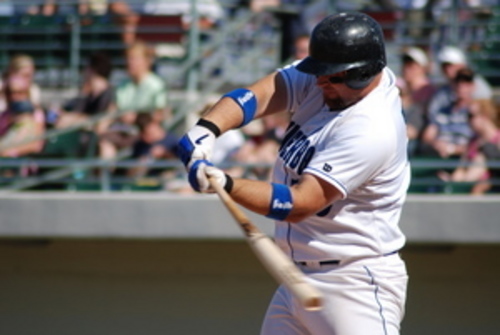 FLORIDA
MARLINS ACQUIRE PHILIP HAWKE
Crestwood
, IL
–
The Windy City ThunderBolts professional baseball team, 2007 and 2008 Frontier League Champions, is proud to announce that first baseman Philip Hawke had his contract purchased by the Florida Marlins. Hawke will report to spring training with the Marlins in February and is expected to battle for the starting first-baseman job with their High-A affiliate, Jupiter Hammerheads.
The 2008 Frontier League Most Valuable Player, Philip Hawke posted the best season of his four-year professional career in 2008, finishing with a .309 batting average, 22 home runs, and 73 RBI. Hawke led Windy City in both on-base percentage (.441, good for third in the Frontier League) and slugging percentage (.548).
Hawke was a Frontier League All-Star for Windy City in 2007 as well, finishing with a .290 batting average, 10 home runs, and 78 RBI, which led the Frontier League. A 29th round draft pick by the Texas Rangers out of Louisiana-Lafayette, Hawke spent two seasons in their organization before signing with the ThunderBolts.
"Phil was one of the most feared hitters in the Frontier League the past two seasons," commented ThunderBolts' bench coach Mike Kashirsky. "He has earned another shot at affiliated ball and we expect him to make the team proud."
Hawke becomes the third ThunderBolt from the 2008 season to sign with a Major League Baseball organization, joining pitchers Tyler Kelsey (Toronto Blue Jays) and Dan Remenowsky (Chicago White Sox).
The Windy City ThunderBolts open the 2009 season on Thursday, May 21 at Standard Bank Stadium in Crestwood. For more information, please visit us online at www.wcthunderbolts.com or contact the ThunderBolts at 708-489-BALL or [email protected]