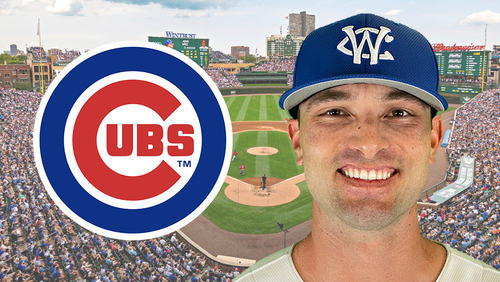 The Windy City ThunderBolts have announced that the contract of pitcher Kyle Johnson has been sold to the Chicago Cubs.
Johnson was a member of the ThunderBolts bullpen during the 2021 season and appeared in 29 games. He finished with a 2-1 record and a 4.60 ERA with one save. Johnson was dominant to start and end the season. He did not allow a run in his first five appearances and he closed the year with three straight scoreless outings.
This will be Johnson's second stint in affiliated ball. After a four-year collegiate career as a hard-hitting outfielder at Purdue, he was signed as an undrafted free agent by the New York Yankees to be a pitcher. In parts of three seasons with the Yankee organization, he appeared in 25 total games and produced a 1.69 ERA.
Johnson is the third member of the 2021ThunderBolts pitching staff to be signed by a Major League organization. He joins Cole Bellair (Twins) and Justin Miller (Brewers), who were both picked up during the season. He is the first ThunderBolt to be signed by the Cubs since Tommy Nance in 2015. Nance reached the Major Leagues in 2021 and appeared in 21 games out of the Cubs bullpen. In all, 65 Windy City players have been signed to Major League organizations since 1999.
The ThunderBolts open the 2022 season at Ozinga Field in Crestwood on Thursday, May 12th at 7:05 pm against the Joliet Slammers. The first 500 fans will recieve a pint glass from Lakeshore Beverage! Also we will have beer specials all night long including $1 retro beers (12 oz Busch Light, Natural Light, Old Milwaukee), $2.50 Bud, Bud Light, Mic Ultra, PBR, Old Style 16 oz cans, $3.75 on our craft and seltzer selections. All group tickets including our box seats, suites, picnics, and Glenmark #WinCity Party Patio are available for reservation now! Single game tickets go on-sale Friday, April 1st at 10 am.
Printable PDF Links: 2022 Game Schedule - 2022 Hospitality Guide (Group Information) - 2022 Fundraiser Info Packet