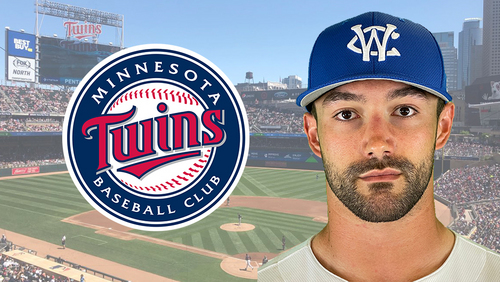 Cole Bellair became the first member of the 2021 Windy City ThunderBolts to be signed by a Major League organization Sunday when he had his contract purchased by the Minnesota Twins.
Bellair initially joined the ThunderBolts in June of 2019 after winning the NAIA National Championship with Tennessee Wesleyan University, where he was a Second Team All-American.
Coming off of a full college campaign, he had an up and down rookie season. He finished at 3-7 with a 5.65 ERA, but his summer also featured some memorable moments. In five of his 12 starts, Bellair allowed two runs or fewer and on June 27, he came within one out of a no-hitter at Southern Illinois.
Bellair slid into the third spot in the starting rotation to start the 2021 season and was masterful in his debut, striking out a career-high eight hitters and allowing only three hits over six shutout innings. He tossed six more frames and struck out seven in a no decision Friday night.
After the Minor League season was canceled in 2020, Bellair becomes the first ThunderBolt signed into affiliated ball since a pair of pitchers were picked up in 2019. He is the second player in franchise history to be signed into the Twins' organization and the first since Matt Hines in 2004.
Bellair joins Markus Solbach and Adam Oller as former ThunderBolts currently pitching for Major League affiliates. Tommy Nance is in the Major Leagues with the Cubs.