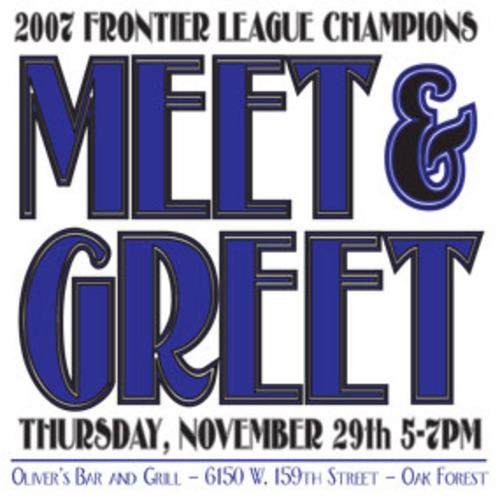 On Thursday November 29th from 5:00 pm to 7:00 pm at Oliver's Bar & Grill,
the Windy City ThunderBolts will be hosting a meet & greet event. Oliver's Bar and Grill is located at 6150 159th Street in Oak Forest. You could visit Oliver's Bar and Grill online at
http://www.qualityinnbradley.com/Olivers/
The following items will be on the agenda:
-Unveiling of the 2008 schedule
-Meet Frontier League commissioner Bill Lee
-Meet New Windy City ThunderBolts general manager Steve Tahsler as well as
the rest of the ThunderBolts front office staff
-Meet the new Windy City ThunderBolts field manager
-Local players Michael Coles, Eric Fussell, Rob Marconi, and John McCarthy have been invited to attend
-Take pictures with team mascot, Boomer
-Take pictures with the 2007 Frontier League Championship trophy
2007 Championship merchandise will be on sale
Holiday Stocking Stuffer packages will also be on sale (4 lower box seat vouchers and a championship t-shirt for $40)
Please come out and support the 2007 Frontier League champions as they
begin their run at the repeat. Any questions please call the ThunderBolts
front office at 708-489-2255 or send us an email to
[email protected]
.