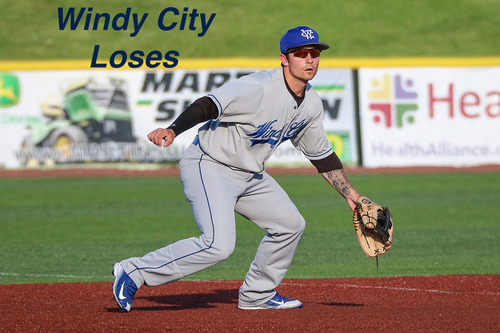 AVON, OH – The ThunderBolts took an early lead but couldn't hold it as the Lake Erie Crushers completed a three-game sweep with a 4-2 win at All Pro Freight Stadium Thursday night.
The ThunderBolts (36-44) got their two runs in the first inning without coming up with a hit. Two errors and a walk loaded the bases before another error allowed Tim Zier to score. Kyle Wood's fielder's choice brought home a second run.
Lake Erie (38-43) tied the score by putting up two runs in the second. Jose Barraza walked and Sean Hurley doubled him in. Hurley would score on a sacrifice fly.
The Crushers added another run in the next inning to take their first lead. Robb Paller doubled and scored on Connor Oliver's single. Their final run came in the fifth. With runners at first and second and one out, Jose Barraza singled to right field. Barraza rounded first aggressively and got caught in a rundown, allowing Robb Paller to score from third. That made the score 4-2.
Windy City had some good scoring chances but went 0-for-10 with runners in scoring position. Johnny Eierman was robbed by a diving Connor Oliver with two men on base in the third and he was robbed by Max Casper on a line drive with the bases loaded in the seventh. The Bolts also left men at second and third in the fifth.
Connor Reed (3-1) allowed two unearned runs over six innings to secure the win and Kyle Von Ruden (1-4) took the loss. He allowed four runs in 4.1 innings. Chandler Jagodzinski threw a scoreless ninth inning for his tenth save. Windy City's bullpen stayed hot. They did not allow a run over 10.2 innings in the series.
The ThunderBolts continue their road trip on Friday at River City, where they will take on the Rascals for three days. Brady Muller (3-8, 4.03) gets the start for the Bolts in game one at CarShield Field. First pitch is scheduled for 7:05 and the radio broadcast can be heard on WXAV 88.3 FM and wxav.com.