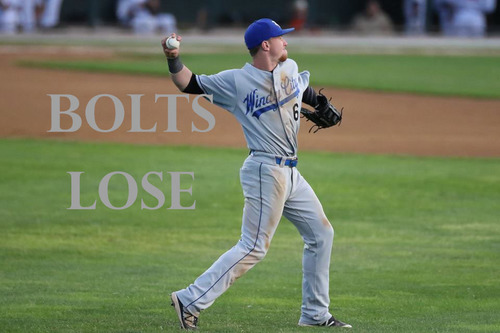 TRAVERSE CITY, MI – Dylan Stoops threw a complete game and the Traverse City Beach Bums scored six runs in the eighth inning to break open a tight game as they beat the ThunderBolts 10-1 at Wuerfel Park Tuesday night.
Traverse City (31-41) took the lead in the second inning and never relinquished it. Steven Patterson singled and movedto third base on a Cody Keefer error. Clay Chapman then struck out Giacarlo Brugnoni for the second out, but a passed ball allowed Patterson to score and give the Bums a 1-0 lead.
The ThunderBolts (34-39) recorded a single with two outs in each of the first four innings but they were not able to get their offense going with less than two outs and they didn't get their first man into scoring position until Larry Balkwill doubled to leadoff the fifth. Balkwill was doubled off of second on a Taylor Smart lineout to end that threat.
Jose Vargas extended the Beach Bum lead in the bottom of the fifth inning as he came up with two on and two out following a dropped third strike and a walk. Vargas hit his fourth home run against the ThunderBolts this year, extending the lead to 4-0.
The Bolts got their lone run in the eighth. Smart tripled and Coco Johnson brought him home on a sacrifice fly.
Traverse City sent ten men to the plate in the bottom of the eighth, collecting five hits and two walks as they put the game away.Ryan Bottber and Christian Santisteban each had two RBIs in the rally and Will Kengor and Kendall Patrick each had one.
Stoops (8-3) struck out a career-high ten in his complete game win and Chapman (7-6) took the loss, allowing four runs (three earned) in six innings.
The ThunderBolts three-game road trip continues in Traverse City on Wednesday. Jake Fisher (8-4, 3.64) will start game two for the Bolts against Traverse City's Michael Shreves (2-6, 5.44). First pitch from Wuerfel Park is scheduled for 6:05 and the broadcast can be heard through wcthunderbolts.com.