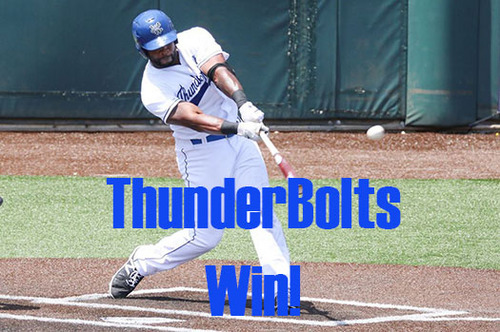 CRESTWOOD, IL – The ThunderBolts broke a 4-4 tie with seven runs in the seventh inning to win their fourth straight game, 13-4 over the Southern Illinois Miners at Standard Bank Stadium Tuesday night.
The ThunderBolts (13-3) scored three runs in the second inning to take the early lead. They came up with four straight two-out hits, including a two-run triple from Taylor Smart. Kevin Barker knocked him in with a single.
They added a run in the third with back-to-back two-out doubles from Blair Beck and Reggie Lawson.
The Miners (8-7) made a game of it, getting a three-run double from Steve Marino in the fourth. They tied the score the following inning when they loaded the bases on a hit and two walks and Nolan Earley hit a sacrifice fly.
The game remained tied until the Bolts broke it in a big way in the seventh. The first nine batters of the inning reached base. Smart scored the go-ahead run on a Coco Johnson single. Beck picked up an RBI base hit and Ransom LaLonde scored two runs on his single. The big blow of the inning, though, was a three-run double from Johnny Eierman that made the score 11-4.
They added two more in the eighth, as LaLonde drove in another run on a double and Eierman knocked an RBI single.
Tyler Murphy (1-0) earned his first professional win, pitching out of a jam in the fifth and ultimately throwing 2.1 scoreless frames. Rick Teasley (1-1), who came in at 3-0 with a 0.00 ERA in his career against the Bolts, took the loss, allowing six runs in six-plus innings.
The ThunderBolts will try to make it five in a row on Wednesday night. It is "Win it Wednesday" at Standard Bank Stadium. If the home team wins, all tickets will become vouchers for another game. Brady Muller (1-2, 4.29) will start for Windy City against former ThunderBolt Dyllon Nuernberg (0-0, 6.30). The broadcast can be heard at wcthunderbolts.com.