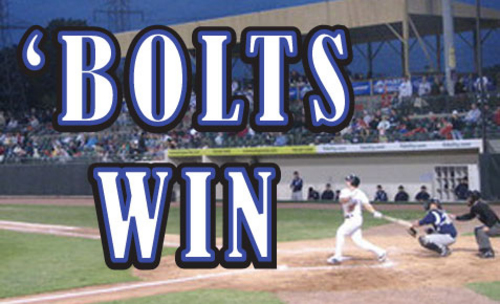 LOVES PARK, IL –The ThunderBolts scored four runs in the second inning on their way to their second straight double digit run total in a 10-2 win over the Rockford Aviators in game one at Aviators Stadium Tuesday night.
For the second straight game, the ThunderBolts jumped out to a big early lead. After scoring five in the first inning on Sunday, they plated four in the second on Tuesday. Max White's double led off the four-hit inning. Cody Keefer knocked him in on an RBI single. Marquis Riley reached on an error to bring in Keefer, Coco Johnson hit a sacrifice fly and Mike Torres rounded out the scoring with an RBI base hit.
Windy City added a run in the third. White and Keefer singled and White scored on a wild pitch.
The Bolts loaded the bases with no outs in the fourth when Rockford starter Kyle Allen and reliever Nick Grim ran into control problems. Austin Gallagher, Ransom LaLonde and Riley each picked up an RBI on a walk to make it 8-0.
Gallagher's solo homer in the sixth added to the ThunderBolts lead and they wrapped up their scoring later that inning when White walked, advanced on Keefer's third hit of the night and scored on a double play.
Rockford (36-25) tacked on a few late runs, including one on a solo home run by Brian Bistagne. They also got an RBI single from Anthony Renteria.
Danny Jimenez (3-6) allowed just a run on four hits over seven innings for the win. Allen (3-2) allowed eight runs (six earned) in 3.2 innings for the loss.
The ThunderBolts will continue their three-game series with Rockford on Wednesday. In game two against the Aviators, Travis Tingle (3-5, 3.26) will start for Windy City against Rockford's Payton Baskette (1-2, 5.02) . First pitch from Aviators Stadium on Wednesday is scheduled for 6:35 with the broadcast available through wcthunderbolts.com.