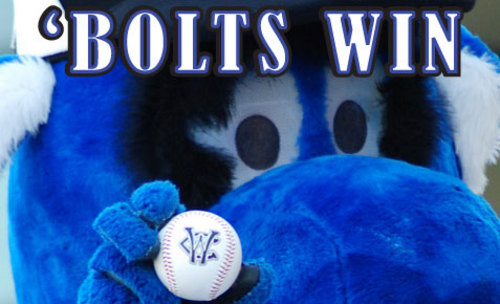 CRESTWOOD, IL – The ThunderBolts scored two runs in the first and never trailed as they handed the Frontier Greys a 6-2 defeat at Standard Bank Stadium Thursday night.
The first three men reached safely for the ThunderBolts (21-35) in the first inning. Coco Johnson was hit by a pitch and stole second before Mike Torres doubled him in. Torres scored on Austin Gallagher's double.
The Bolts made it 3-0 the following inning when Jacob Tanis and Marquis Riley each doubled.
The Greys (26-29) made a game of it with a big fourth inning. They loaded the bases with one out on two walks and single. Jhiomar Veras brought home a run on a fielder's choice and Mike Falsetti singled to make it 3-2.
In the ThunderBolts' fifth, Johnson reached on a two-base error to start another rally. He scored on a Gallagher base hit. Torres, who had walked earlier in the inning, scored on a Ryan Deitrich single to extend the lead.
Ransom LaLonde, who had three hits in the game, doubled in the sixth and came in to score on a Riley single to make it 6-2.
The Greys threatened with two hits in the fifth and a leadoff double in the sixth, but Travis Tingle pitched out of jams in both innings to hold the Greys to two runs and three relievers combined on three hitless innings.
Tingle (3-5) picked up the win, allowing two runs on seven hits with six strikeouts over six innings. Jordan Kraus (5-4) lasted five innings and allowed five runs (four earned) to take the loss.
The ThunderBolts will travel to Joliet on Friday to get their first look at the Joliet Slammers. Game one will be played at 7:05 at Silver Cross Field. Jake Fisher (2-5, 5.19 will start for the Bolts against Joliet's Michael Carden (2-3, 4.29). The game's broadcast can be heard on wcthunderbolts.com.