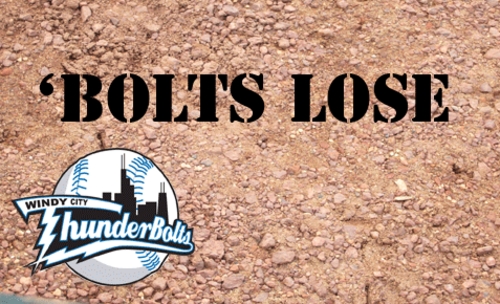 MARION, IL – The Southern Illinois Miners wrapped up a 6-0 season against the ThunderBolts with an 8-4 win over Windy City at Rent One Park Sunday night.
The Miners (35-19) did all of their scoring in two innings. They broke a scoreless tie with four runs in the third. The inning began with back-to-back walks and both men scored on a Frank Martinez single, the second of four hits for him. Martinez and Niko Vasquez each crossed the plate on a two-out double hit by Joe Rapp.
The ThunderBolts (19-33) cut that lead in half with a pair of runs in the fourth. Austin Gallagher and Ryan Deitrich singled in front of Max White, who doubled to drive in two runs.
The Bolts had a chance to cut into the lead in the seventh with two on and one out. Tyler Clark singled but Ransom LaLonde was thrown out at the plate and they did not score.
Jake Fisher retired nine of ten hitters after the four-run third but Southern Illinois's hitters got to him again in the seventh. Aaron Gates singled and Vasquez did the same with two outs. Martinez singled home Gates to make the score 5-2 and chase Fisher. Against reliever Tommy Nance, Joe Rapp hit a three-run homer to put the game away.
The ThunderBolts scored a few late runs against the Miners bullpen, starting with one in the eighth. Gallagher walked and Cody Keefer picked up his first ThunderBolts RBI with a double. In the ninth, Clark singled, moved to second on an error and scored on a Mike Torres single to make the final score 8-4.
Matt Bywater (7-2) struck out 11 over seven innings for the win and Fisher (2-5) allowed seven runs in 6.2 innings to take the loss.
The ThunderBolts return home to begin a four-game series with the Frontier Greys on Monday. Game one at Standard Bank Stadium will feature Austin Wright (2-7, 4.67) on the mound for Windy City against the Greys' Brett Shankin (3-1, 4.50). First pitch is scheduled for 7:05 and the game broadcast can be heard on WXAV 88.3 FM and wxav.com.