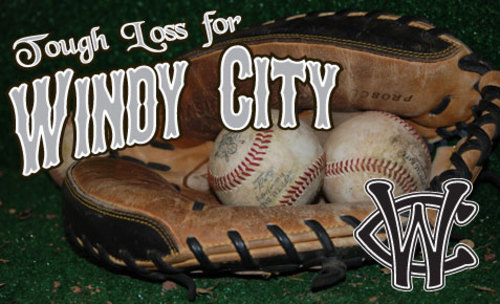 CRESTWOOD, IL – Reggie Lawson doubled home Brandon Jacobs in the top of the ninth to give the Traverse City Beach Bums a 2-1 win over the ThunderBolts at Standard Bank Stadium Friday night.
Jake Fisher of the ThunderBolts (17-30) and Michael Shreves of the Beach Bums (31-16) were locked in a pitchers' duel early with neither offense producing more than a single through the first three innings.
The Beach Bums broke the shutout in the top of the fourth. Jose Vargas singled and moved up on a two-out base hit for Jacobs. Lawson followed with a single to score Vargas.
The ThunderBolts were quick to respond when Mike Torres led off the bottom of the fourth with a double. He advanced to third on a groundout and scored on Max White's two-out single to tie the score.
Neither team scored again until the ninth. Traverse City had a good chance in the sixth when they loaded the bases with one out on three singles. Fisher got out of the jam with a strikeout and a groundout. Windy City's best chance after the fourth came in the seventh inning when White hit a flyball to the wall. Jacobs made a leaping catch to rob him and hold the tie.
Jacobs led off the ninth with a base hit before Lawson doubled just two pitches later to give the Beach Bums the 2-1 win.
Shreves (5-0) allowed one run in eight innings for the win while Chris DeBoo (2-2) allowed the ninth-inning run for the loss.
The ThunderBolts and Beach Bums continue their series on Saturday. Standard Bank Stadium will host Christmas in July featuring a pregame concert by the Beverly All-Stars. Standard Bank will also sponsor a postgame fireworks show. On the field, Austin Wright (2-7, 4.60) will oppose Traverse City's Luis DeJesus (5-2, 2.12). First pitch is scheduled for 6:05 and the broadcast can be heard on WXAV 88.3 FM and wxav.com.