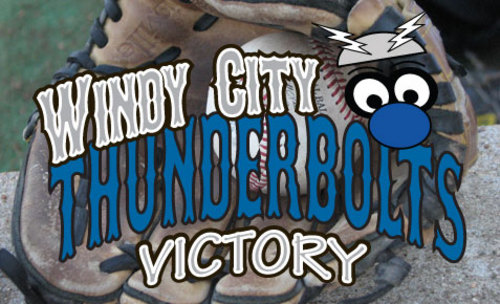 CRESTWOOD, IL – The ThunderBolts scored five runs in the seventh inning to defeat the Washington Wild Things 5-2 at Standard Bank Stadium Tuesday night.
Washington (19-27) got on the board in the first inning after Carter Bell reached on an error. Sam Mende walked to advance Bell to second and Scott Kalamar's single made it 1-0.
The ThunderBolts (17-27) got a man to third in the first three innings but were unable to score off of Washington starter Kyle Helisek, who recovered to retire nine in a row from the third through the fifth.
The Wild Things added a two-out run in the fifth. Austin Wobrock walked and stole second base before Bell singled him home to make it 2-0.
Marquis Riley tripled for Windy City with one out in the seventh but was thrown out at the plate on a Max White fielder's choice. Ransom LaLonde kept the inning alive with a single before back-to-back walks scored the first run. Mike Torres's infield single tied the score and another bases loaded walk to Jonathan Garcia gave the ThunderBolts their first lead at 3-2. Austin Gallagher followed with a two-run single to extend the lead to 5-2.
Chris DeBoo and James Jones combined on three hitless innings of relief to wrap up the win.
DeBoo (2-1) picked up the win after relieving Zak Wasserman, who allowed just one earned run in six innings. Tim Giel (1-3) allowed all five runs for the loss. Jones secured his sixth save.
The ThunderBolts and Wild Things will renew acquaintances on Wednesday night in game two of the three-game series. Danny Jimenez (2-3, 3.09) will oppose Washington's Ernie Zaragoza (4-2, 2.43). It is JULIE, Inc. Win it Wednesday. When the ThunderBolts win, every ticket becomes a free voucher for any game during the 2015 season. Fans not in attendance can hear the broadcast at wcthunderbolts.com.