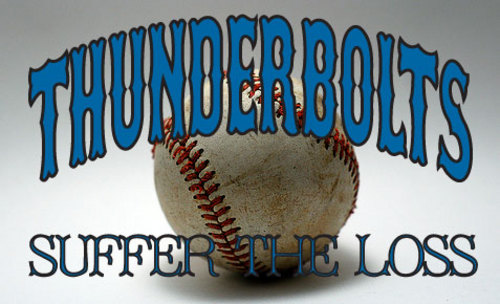 CRESTWOOD, IL – The ThunderBolts began a six-game homestand with a 7-5 loss to the Washington Wild Things at Standard Bank Stadium Tuesday night.
The Wild Things got on the board in the first inning when Scott Kalamar was hit by a pitch and William Beckwith doubled him in. They made the score 3-0 in the fifth as Cole Martin singled, Beckwith was hit by a pitch and Carter Bell singled them both home.
The ThunderBolts struck for the first time in the bottom of the fifth inning on back-to-back doubles from Garrett Carey and Andrew Brauer.
Washington opened up their lead with three runs in the sixth. Maxx Garrett started with a walk and three consecutive hits from Pat Kregeloh, Ryan Kresky and Martin made it 6-1. Their lead peaked with a Martin RBI single in the eighth.
The Thunderbolts made the game interesting with three runs in the eighth. Mike Torres singled and scored on a Ryan Soares base hit. Kyle Robinson walked and scored when Max White reached on an error. And Ryan Tufts, who had reached on a fielder's choice, crossed the plate on a Daniel Aldrich groundout.
Windy City got one more in the ninth when Carey doubled and Torres hit a sacrifice fly before Jonathan Kountis shut the door for his 27th save.
Zac Fuesser (8-1) allowed one run in 6.2 innings for the win and Hein Robb (0-2) took the loss, going five innings with four runs scoring.
The ThunderBolts continue their three-game set with the Wild Things on Wednesday. Daniel Cropper (6-6, 4.14) will get the start for the Bolts against Washington's Scott Dunn (6-3, 3.08). The first 1,000 fans in attendance Wednesday will receive a Boomer armored car bank courtesy of First Midwest Bank. First pitch from Standard Bank Stadium is scheduled for 7:05 and the broadcast can be heard on Meridix.com.