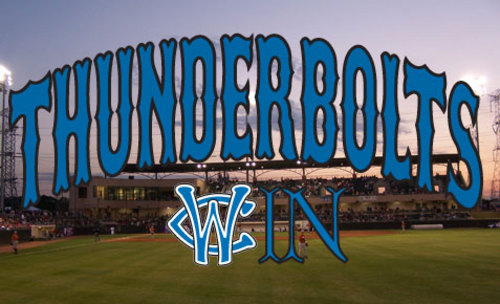 CRESTWOOD, IL –Daniel Cropper allowed just three hits and struck out a career-high seven as he led the ThunderBolts to a 5-1 win over the Gateway Grizzlies at Standard Bank Stadium Saturday night.
The ThunderBolts ended a 23-inning scoreless streak when they pushed across two runs in the second inning. Max White singled and Garrett Carey doubled to put runners at second and third with one out. White scored on a wild pitch and Mike McGuckin's groundout brought home Carey.
They expanded their lead to 4-0 in the third. Kyle Robinson and Ryan McIntyre each singled and stood at second and third with one out when Ryan Tufts drove them both in on a base hit.
A sixth-inning run made the score 5-0. Daniel Aldrich doubled and eventually scored on a wild pitch.
The Grizzlies got their only run off of Cropper in the seventh inning. Michael Johnson led off with a single and moved to second on a wild pitch. A groundout moved Johnson to third base and he scored on a tag-up play when Landon Hernandez popped out to first base.
The Grizzlies put the first two runners on base in the ninth on back-to-back walks, but Cropper came back to get the final three hitters, including the last two on strikeouts to end the game.
Cropper (6-6) threw his second complete game of the season and his second in his last three starts to earn the win and Andrew Aizenstadt (1-3) allowed four runs in 5.1 innings to take the loss.
The ThunderBolts will and Grizzlies will continue their series on Sunday evening. Jake Fisher (4-7, 4.33) will start game two for the Bolts against Gateway's Aaron Newcomb (8-4, 6.04). It is Standard Bank Family Day with players signing postgame autographs and fans being invited on the field after the game to play catch. First pitch from Standard Bank Stadium is scheduled for 5:05 and the broadcast can be heard on WXAV 88.3 FM and wxav.com.