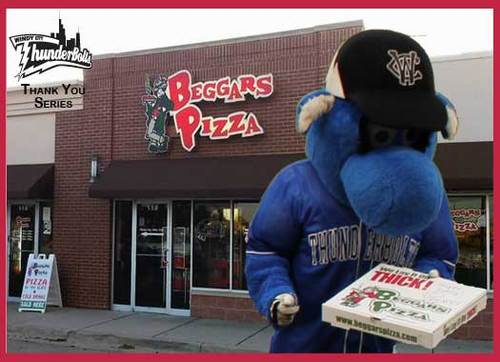 The Windy City ThunderBolts organization could not survive without its corporate sponsors. We would like to thank our sponsors from the 2013 season in a very special way. Every week we are going to feature a particular sponsor in our "ThunderBolts Thank You Series." This week's installment takes a look at Beggars Pizza.
About Beggars Pizza: Beggars Pizza has been bringing a delicious array of pizza and food to Chicagoland for over 35 years! Since the original Blue Island restaurant opened in 1976 people have been enjoying Beggars Pizza. By providing a family-style atmosphere in their restaurants and a positive influence in the communities they serve, the name "Beggars" continues to mean something to people of Chicago.
Beggars Pizza and the ThunderBolts: Beggars Pizza has been the official pizza since the ThunderBolts' first season in 2004. Anytime someone ate a slice of pizza at a ThunderBolts' game...it was a slice of Beggars Pizza. Over the years Beggars has had different game promotions with the club. The fans go wild for the Beggars Pizza Scream as Boomer looks to give away a whole pizza to a lucky fan. T-shirt tosses and delivery races also have been a hit in past seasons. Beggars also sponsors the bat boy/girl of the game. In addition to signage at the stadium fans can also get a great deal from Beggars on the back of their ticket stub.
The ThunderBolts organization has been extremely pleased with the Beggars Pizza product we sell in our concession stands. Beggars supplies us with the right knowledge and equipment to serve their slices hot and fresh to our fans and the end result is great customer feedback on the product.

The Windy City ThunderBolts would like to thank Beggars Pizza for their years of support of the Southside's minor league baseball team. For information on Beggars Pizza and to see which of their 22 locations you will visit...please check out their official website HERE.