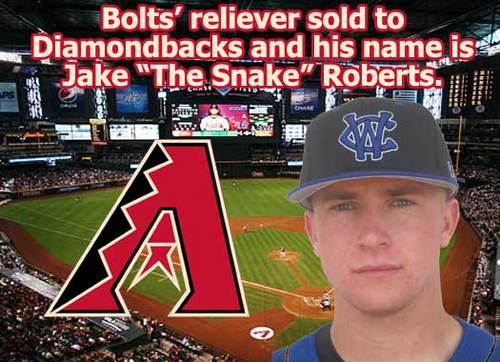 Jake Roberts has become the third member of the 2013 Windy City ThunderBolts to sign with a Major League organization. His contract was sold to the Arizona Diamondbacks on Wednesday.
Roberts, who signed with the ThunderBolts on June 27 out of St. Joseph's College of Indiana, posted stellar numbers out of the bullpen. He went 1-1 with a 1.66 ERA, while allowing only 15 hits in 21.2 innings. He was one of five members of the Bolts' bullpen to finish the year with an ERA under 2.00.
Roberts had his outstanding rookie season despite being relatively new to pitching. He finished his two-year career at Saint Joe's with only four games and three innings under his belt. He did not allow a run or a hit in his three innings and struck out four. Roberts excelled as a third-baseman in college. He hit .317 as a senior in 2013 and led the Pumas in runs (39), hits (52), doubles (11), walks (24) and on-base percentage (.438). He hit .301 as a junior and led the team with 15 doubles.
By signing with the Diamondbacks, Roberts joins Blayne Weller and Mike Recchia as 2013 ThunderBolts currently in affiliated ball. The Anderson, Indiana native is the third former ThunderBolt to be signed by the Diamondbacks, joining Weller and former St. Joseph's pitcher Eric Meyerchick, both of whom are currently in the Arizona system.