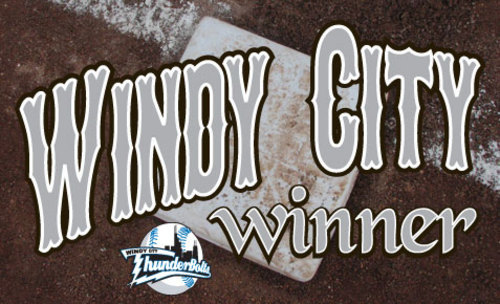 JOLIET, IL – Evan Button's RBI single in the eighth inning broke a 3-3 tie as the ThunderBolts went on to defeat the Joliet Slammers 6-3 in game one at Silver Cross Field Saturday night.
Windy City took the early lead in the first when Mike Torres singled and Ryan Soares doubled him in.
Joliet quickly tied the score at one in the bottom of the first. Marquis Riley doubled and scored on a Kyle Maunus single.
The Slammers took their only lead in the third when Darian Sandford reached on an error and moved to third on a Niko Vasquez single. He scored on Nick Akins's groundout.
Windy City responded in the top of the fourth and reclaimed the lead. They loaded the bases on singles for Andrew Brauer and Chase Tucker and a walk for Jayce Ray. Evan Button's base hit scored Brauer to tie the score and Soares's single brought home Ray to make it 3-2 Windy City.
Again, Joliet was able to tie it up in the fifth. Sandford singled and scored on Riley's double.
The offenses went silent until the eighth when the Bolts broke through for the game-winner. Ray singled with one out and Tucker took his place after a fielder's choice. Tucker stole second and Button's two-out base hit scored him to give the Bolts a 4-3 lead.
They added to it in the ninth when Chad Cregar and Zach Aakhus hit back-to-back doubles. Aakhus later scored on a wild pitch.
Jessie Snodgrass (1-0) picked up his first career win, pitching a scoreless seventh inning. Travis Tingle allowed two earned runs in six innings as the starter; Michael Click's scoreless ninth inning earned him his 15th save. Chase Doremus (4-4) allowed a run in 2.2 innings to take the loss.
The ThunderBolts and Slammers will continue their series in Joliet Sunday afternoon. Windy City will start Dyllon Nuernberg (6-1, 2.38) in game two against Shawn Kale (4-2, 4.26). First pitch from Silver Cross Field is scheduled for 2:05 and the broadcast can be heard on WXAV, 88.3 FM and wxav.com.