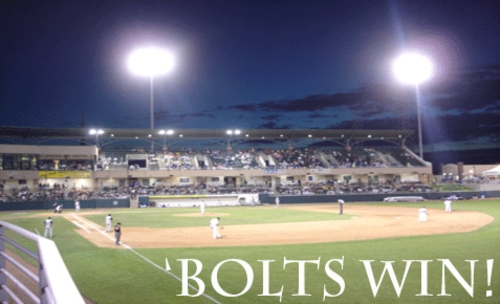 CRESTWOOD, IL – Doug Joyce drove home Mike Torres on a fifth-inning groundout to give the Windy City ThunderBolts (13-20) a 3-2 lead Saturday night, a lead they would hold to defeat the Rockford Aviators (6-25) at Standard Bank Stadium.
The Bolts went ahead 2-0 early on a run in the second and one in the third. Jeff Harkensee drove home C.J. Gillman for the first runs and the lead was extended when Ryan Soares singled home Torres.
The Aviators fought back with a two-run fourth inning. Two singles and a walk loaded the bases before Tyler Smith walked to score the first run. They tied the game when Eric Bainer hit a sacrifice fly to right, but a great diving catch made by Andrew Brauer prevented more than one run scoring on the play.
Windy City would take the lead for good in the fifth on Joyce's groundout. Torres had reached third base on a double and his second stolen base of the game.
The key moment of the evening came in the top of the eighth. With the score at 3-2, Rockford again loaded the bases, this time on a walk and two hit batsmen. Jessie Snodgrass came out of the bullpen and kept any runners from crossing the plate. He got Kenny Bryant to pop out and Smith to line out before striking out Bainer to end the threat.
Travis Tingle (2-2) pitched six two-run innings for the win and Derrick Stultz (0-1) took the loss despite a quality start of six innings and three runs. Michael Click pitched a scoreless ninth for his fifth save.
The ThunderBolts will shoot for their first sweep of the year on Sunday evening. Travis Strong (1-3, 6.23) will start for the Bolts against Rockford's ace, Drew Rucinski (1-5, 3.23). It is Standard Bank Family Day at Standard Bank Stadium with a 5:05 first pitch and fans not in attendance can hear the broadcast through wcthunderbolts.com.