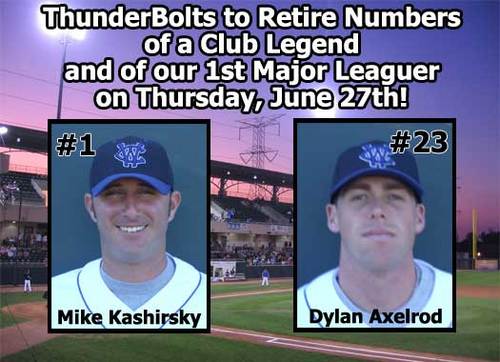 The Windy City ThunderBolts are proud to announce that they will retire the jersey numbers of long time field staff member #1 Mike "Kash" Kashirsky and current Chicago White Sox starter #23 Dylan Axelrod. Both numbers will be retired at Standard Bank Stadium in a ceremony on Thursday, June 27th before the ThunderBolts take on the Normal CornBelters.

Axelrod was a standout pitcher for the Bolts during the 2009 season, making the Frontier League all-star game and helping to lead the team to the playoffs. He went 3-1 with a 2.21 ERA and six saves in eight starts and 14 relief appearances.
Kashirsky was a member of the Cook County/Windy City franchise as a player, coach and manager over nearly a decade in Crestwood. After briefly playing for the Cheetahs, "Kash" began his coaching career with the ThunderBolts as bench coach of the 2004 team, a position he retained until 2008, when he took over as Bolts manager mid-season. Under Kashirsky, the ThunderBolts went 37-14 to finish the regular season before going 6-1 through the playoffs to capture the Frontier League title.
After spending 2009 as bench coach, Kashirsky was given the manager's job full-time in 2010, leading the team to another division title. Overall, in two-plus seasons as Windy City's skipper, Kashirsky is the franchise's all-time winningest manager with a 141-100 record.
In 2012, he joined Axelrod in the White Sox organization, taking over the role of left-handed batting practice pitcher for the big league squad. He is the second former ThunderBolts coach to join a big league staff, following Orioles bullpen catcher Ronny Deck.
Axelrod was signed by the White Sox on August 3, 2009 and rose quickly through their system. He topped out at high-A Winston-Salem in 2009 and reached Triple-A Charlotte by the end of 2010. The following season, after going 6-1 with a 2.27 ERA in 15 Charlotte starts, he was promoted to the White Sox and made his Major League debut on September 7, 2011.
Since then, he has become a mainstay in the White Sox pitching staff. He has been a regular member of the starting rotation in 2013.
Axelrod's #23 and Kashirsky's #1 are the first numbers to be retired in ThunderBolts history. Axelrod will join the proud tradition of Chicago sports legends to have the number 23 retired. The Bulls have retired Michael Jordan's 23 as have the Cubs with Ryne Sandberg.
First pitch on Thursday, June 27 is scheduled for 7:05. The number retirement ceremony will take place before the game.