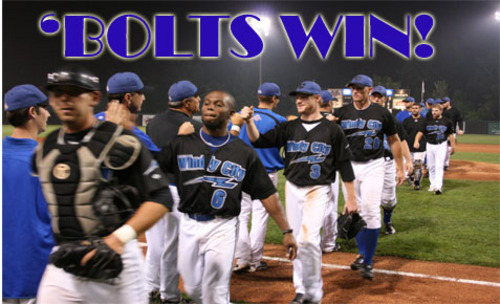 ROCKFORD, IL— After being shut out on Friday, the ThunderBolts (6-15) turned on the offense in game two against the Rockford Aviators (3-16) winning 15-6 Saturday night. Windy City tacked on eight runs in the first frame and never looked back as the 15 runs were a team best this season.
The ThunderBolts wasted no time getting to Aviator starter Nick Anderson as the ThunderBolts sent the first six batters onto the base paths. All of those runners scored in the first inning, thanks to RBI hits for Chad Cregar and Andrew Brauer, before Jeff Harkensee was hit by a pitch to continue the frame. Harkensee later came around to score along with Ryan Soares to finish off the opening inning 8-0 in favor of the Bolts.
Rockford sent a new pitcher to the mound in Derrick Stultz and Windy City was able to drive in one more run the next inning as Andrew Brauer led off with a walk. Jeff Harkensee recorded his third RBI of the year singling home Brauer and putting Windy City on top 9-0.
The Aviators flirted with chances throughout the game, but weren't able to get on Mike Recchia until the 5th inning. Rockford loaded the bases with nobody out and plated 3 runs with a walk, sacrifice fly, and single.
No more runs were exchanged until the 7th inning when Zach Aakhus doubled home C.J. Gillman to put the ThunderBolts on top 10-3.
The ThunderBolts scored four more an inning later that was highlighted by a 3-run double by Ryan Soares.
Rockford got three of those runs back in the bottom of the frame against Windy City's Dyllon Nuernberg. Ted Obregon brought two runs in with a two-out single. Two batters later Matt Greener singled home Obregon cutting the ThunderBolts lead 14-6.
The ThunderBolts would score the last run in the top of the 9th inning when Chad Cregar added his third RBI of the day doubling home Miles Walding.
Mike Recchia (1-3) earned his first win of the season giving up three earned runs in five innings. Nick Anderson (0-2) finished at 0.2 innings letting up eight earned runs on seven hits.
The ThunderBolts will attempt to win their first series of the year in game three on Sunday. Matt Wickswat (1-2, 6.15) takes the mound for Windy City against Rockford's Trevor Harden (1-2, 4.05). First pitch is scheduled for 6:05 p.m. A live broadcast can be heard on wcthubderbolts.com.