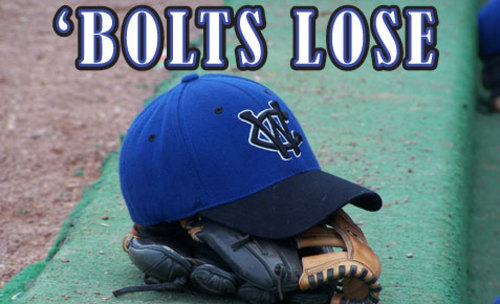 JOLIET, IL – The ThunderBolts struck out 14 times to the Slammers pitching staff as Windy City (5-14) was unable to win its first series of the year. Joliet (8-10) earned the first series win against the ThunderBolts at home in club history.
The Slammers scored first for the 4th straight game when they put up a four-run 1st inning against Windy City starter Travis Strong. The first two hitters reached base for Joliet and moved to second and third on a sacrifice. The first run crossed when Travis Strong committed a balk that sent home Javan Williams. One batter later, Michael Wing hit a two-run double and later moved to third on a groundout by Seth Schwindenhammer. Strong then committed his second balk in the inning, bringing home Wing and giving the Slammers a 4-0 lead.
Windy City got back two of those runs in the 4th inning. Doug Joyce singled home Mike Torres, who reached on a walk, and Zach Aakhus would score on an error by Joliet's second baseman to cut the Slammers' lead to 4-2.
Joliet wasted no time in getting those runs back in the bottom of the frame, as the Slammers put up three more runs. After two consecutive walks given up by Strong, Williams plated one run with a single and Grant DeBruin scored two more with a double. Joliet then possessed the biggest lead of the day 7-2.
Neither team would score after that thanks to bullpen work from both sides. Jessie Snodgrass and Mark Kuzma recorded four scoreless innings, while Chase Doremus struck out six of the eight ThunderBolts he faced.
Brett Zawacki (1-2) picked up the win in the series decider, while Travis Strong dropped to 0-3.
The ThunderBolts start their second straight series on the road Friday, visiting the Rockford Aviators. Travis Tingle (0-1, 6.06) will go against Rockford's Drew Rucinski (0-3, 4.20). First pitch is scheduled for 7:05 p.m. The broadcast can be heard on wcthunderbolts.com.