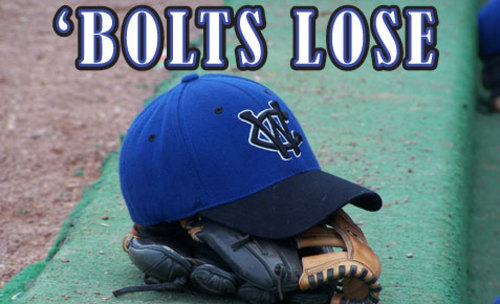 SCHAUMBURG, IL – The Schaumburg Boomers scored eight runs in the second inning and rolled over the ThunderBolts 13-3 in the series finale in Schaumburg Wednesday night.
The ThunderBolts loaded the bases in each of the first two innings, but were unable to take the early lead. In the bottom of the second, the Boomers made them pay. They sent 13 men to the plate and scored eight runs in the biggest inning against Windy City pitching this year. Mike Valadez started the scoring with a two-run single and Brandon Gregorich immediately followed with a two-run double. Chase Fontaine's run-scoring double put the Boomers up 5-0 and chased Dustin Williams from the game.
The offense continued to produce against the bullpen. After loading the bases, Steve McQuail's bases-clearing double ended the second innings scoring.
Windy City tightened the score a little in the fourth inning. After Ryan Cuneo doubled and Bob Glover walked, Travis Weaver grounded out to bring home Cuneo and Glover was brought in by Mike Torres's single.
The lead for the Boomers became seven again on McQuail's RBI single in the fourth and they put the game away for good in a four-run sixth. McQuail and Valadez each had RBI hits in that inning and Karexon Sanchez drew a bases-loaded walk.
The thunderbolts finished their scoring in the ninth inning. Glover singled and Jareck West doubled him in to make the final score 13-3.
Robby Donovan (9-6) went six innings for the win while Williams (10-6) allowed six runs in the loss.
The Bolts will begin a four-game series with the Washington Wild Things on Friday. The set opens with a doubleheader that starts at 3:05 CDT at CONSOL Energy Park. Blayne Weller (4-2, 4.26) will start game one for the Bolts against Washington's Jhonny Montoya (1-3, 4.44). The ThunderBolts have not announced a game two starter. It will be Shawn Smith (1-3, 2.88) for Washington. Both games can be heard on WXAV, 88.3 fm and wxav.com.

http://www.pointstreak.com/baseball/boxscoretext.html?gameid=66668www.pointstreak.com/baseball/boxscoretext.html