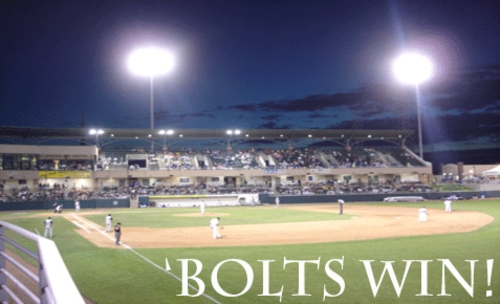 CRESTWOOD, IL – Mike Torres had three hits and Dustin Williams threw six strong innings as the ThunderBolts took the series opener from the Washington Wild Things 3-2 at Standard Bank Stadium Tuesday night.
It didn't take long for the ThunderBolts to grab the lead, scoring twice in the bottom of the first inning. Torres doubled and scored on a Chad Cregar base hit to make the score 1-0. They added another run when Washington starter Gary Lee walked the bases loaded and Mike Mobbs hit a one-hopper to third base that Matt McConnell couldn't handle. Cregar scored on the error and it was 2-0.
The lead didn't hold for long. Williams had control trouble in the second, when he walked Jeriel Waller and Michael Bando before a sacrifice bunt and a groundout made it a one-run game. Another walk and a hit batter later, the bases were loaded for Michael Mooney, who fell behind in the count 1-2 before he was hit by a pitch, scoring Bando and tying the score at two.
In the bottom of the same inning, Travis Weaver singled for Windy City, and later came in to score on a Cregar groundout, giving the team a 3-2 lead.
Both starting pitchers settled down after that and were strong over six innings each.
The ThunderBolts had one more good scoring chance. In the sixth, with Bryan Burke at second and two outs, Weavers singled to left, but Waller made a perfect throw to the plate, catching Burke trying to score.
Andy Mee, Shane Zegarac and Tyson Corley pitched three hitless innings out of the Bolts' bullpen. The tying run reached first base in the ninth when Robbie Garvey was hit by a pitch, but Corley struck out Trevor Pippin to end the game.
Williams (1-1) picked up the win while Lee (0-1) took the loss and Corley earned his fourth save.
The same two teams tomorrow will play under the sun in a 10:35 School Day contest. Mike Recchia (3-0) will make his third start for Windy City and Justin Hall (1-0) will get the call for the Wild Things. The game broadcast can be heard on WXAV, 88.3 fm and WXAV.com.

Box Score