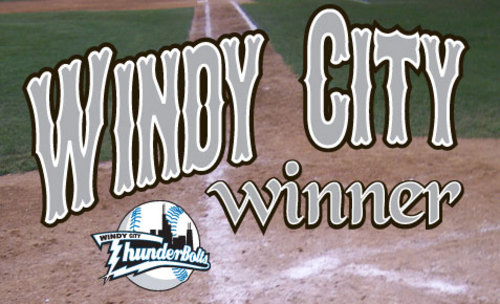 TRAVERSE CITY, MI – Dustin Williams threw his first complete game of the season as the ThunderBolts knocked out the Traverse City Beach Bums 3-0 at Wuerfel Park Saturday night.
Williams was never on the mound without a lead as the Bolts were able to score a first-inning run. Brandon Anderson led off with a single and scored on a two out base hit from Zach Aakhus.
The Bolts added another run in the third when Chris Wade led off with a double. Again, though, they were unable to get him home before the second out. Devin Shepherd came up with the second clutch hit of the game when he lined a single to score Wade and make it 2-0.
The bottom of the third was the only spot of trouble that Williams found himself in. With two outs, the Beach Bums had loaded the bases on two singles and a walk, but Williams struck out Jose Vargas to end the inning.
From that point on, the Windy City right-hander was in control. Traverse City only had one man reach second base the rest of the game and Williams retired the last twelve batters he faced.
The ThunderBolts scored once more on a Chad Cregar RBI double in the eighth and Williams fanned the final two hitters to complete the 3-0 shutout. Overall, he struck out nine while walking just two and allowing five hits. He improved to 7-3 in throwing the first ThunderBolt shutout of the season.
Matt Smith pitched eight great innings for the Beach Bums, but took the tough-luck loss, falling to 0-3 on the season.
The same two teams will be in action on Sunday evening at 4:05 CDT at Wuerfel Park. John Mincone (0-1) will start for the Bolts against Traverse City's Bryan Banes (7-0). The game can be heard on Sportsjuice.com.
Box Score