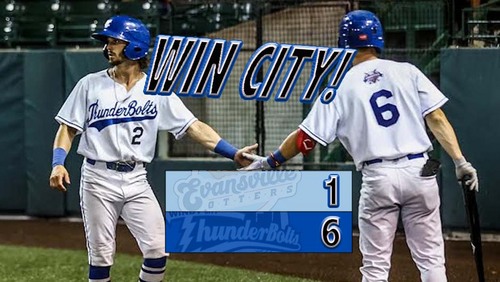 CRESTWOOD, IL – Adam Wheaton came within two outs of the ThunderBolts' first complete game of the season and picked up his first pro win as the Bolts defeated the Evansville Otters 6-1 at Ozinga Field Thursday night.
The Otters (41-33) struck first, posting a run in the top of the second on a Tanner Craig solo homer. From there, it was all ThunderBolts.
They tied the score in the bottom of the frame as Brynn Martinez singled and scored on a double for rookie Jonathan Nieves, who picked up the RBI in his first pro at bat.
The Bolts (28-45) took the lead in the third and never gave it up. Jairus Richards was hit by a pitch and Bren Spillane hit a two-run homer.
In the fifth inning, Dan Robinson hit an RBI double and later scored on a sacrifice fly to make it 5-1, and the final run was plated one inning later. This one was bought by Martinez, who walked, stole second and third and scored on an error.
Wheaton tried to throw the complete game, starting the ninth inning at 95 pitches, but after getting a quick first out, he walked back-to-back hitters and was removed in favor of Layne Schnitz-Paxton, who ended the game with a double play.
Wheaton (1-2) struck out seven and allowed only five hits in his 8.1 innings for the win. The losing pitcher was Ryan O'Reilly, who allowed five runs in 4.1 innings.
The ThunderBolts continue their seven-game home stand by welcoming the Schaumburg Boomers to town on Friday Night. It is Bolts, Jr. Night at Ozinga Field, featuring appearances by Mickey Mouse, a minion and Chase from Paw Patrol. The game will be followed by a fireworks show. Jack Alkire will start for Windy City against Schaumburg's Aaron Glickstein. First pitch is scheduled for 7:05 and the broadcast can be found at wcthunderbolts.com.