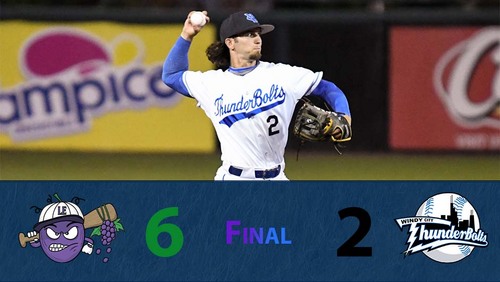 CRESTWOOD, IL – The ThunderBolts carried a 2-0 lead in to the sixth inning but were unable to hold it as the Lake Erie Crushers scored six unanswered runs to beat the Bolts 6-2 at Ozinga Field Saturday night.
Peyton Isaacson, hitting out of the leadoff spot for the first time, started the game off with a bang for the ThunderBolts (23-32). He hit a solo home run to give his team a 1-0 lead. It was the third time in the last six games that the Bolts' leadoff batter hit a first-inning homer.
They doubled their lead in the fourth as Joshuan Sandoval doubled, moved to third on an error and scored on a wild pitch.
Thanks to a fine effort from Ryan Miller, the 2-0 lead stood through five innings. Miller, typically a reliever, was only expected to pitch 2-3 innings in the spot start but lasted five, throwing just 45 pitches and allowing two hits and no runs.
In the sixth, the Windy City bullpen couldn't hold the lead. Connor Owings started the scoring with an RBI double and Kemuel Thomas-Rivera doubled him in, tying the score. Lake Erie (26-30) took the lead for good on a Kenen Irizarry RBI single.
The Crushers put the game away in the ninth, getting RBI hits from Austin White and Jake Gitter to build their lead to four.
Julio Vivas (2-7) allowed two runs over his five innings pitched to get the win for Lake Erie. Former Crusher Daniel Kight (3-3) gave up three runs in .2 innings and took the loss.
The series and the first half of the season end on Sunday afternoon. Garrett Christman (1-3, 6.20) starts for Windy City and Lake Erie counters with Gunnar Kines (1-1, 4.93). On JULIE Family Sunday at Ozinga Field, first pitch is scheduled for 2:05 and fans will be allowed on the field to play catch and get autographs after the game. The broadcast can be found through wcthunderbolts.com.