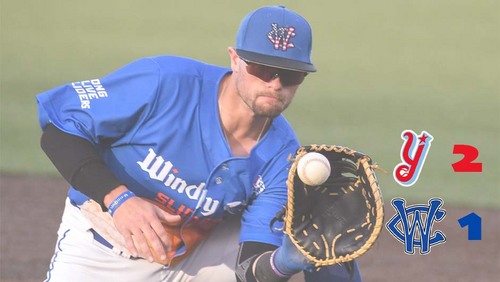 CRESTWOOD, IL – The Florence Y'alls scored twice in the top of the ninth inning to wrest game two of a doubleheader away from the ThunderBolts at Ozinga Field Thursday night. The Y'alls hung on to win 2-1.
The pitching matchup between Windy City's Tyler Thornton and Florence's Alex Wagner was the story of the game as neither team mounted a serious threat over the first four innings.
The ThunderBolts (22-31) broke the scoreless tie in the bottom of the fifth. Daryl Myers singled and advanced to second on a wild pitch. With two outs, Brian Fuentes came through with an RBI single to give the Bolts a 1-0 lead.
Florence (21-33) had their hands full with Thornton but, in the seventh inning, made a run at tying the score or taking the lead. On a single and two walks, they had the bases loaded with two outs. Alberti Chavez worked the count full but Thornton got out of the inning with a groundout to third.
The Y'alls finally broke through in the ninth. After the leadoff man was retired, Bryant Flete doubled. He moved to third on Anthony Brocato's single. After a hit by pitch loaded the bases, Chavez hit a roller to first base. The throw came home but Flete beat the tag, tying the score. Another fielder's choice brought home the winning run and the ThunderBolts did not threaten in the bottom of the inning.
Thornton, in his best start of the year, pitched seven shutout innings but did not take a decision. Evy Ruibal (1-0) pitched two shutout frames for the win and Daniel Kight (3-2) took the loss.
The ThunderBolts open a three-game series at Ozinga Field on Friday night against the Lake Erie Crushers. It is Harry Potter Night at the ballpark as Kenny Mathews (3-2, 3.74) gets the start against the Crushers' Joseph Sgambelluri (5-3, 2.98). The game starts at 7:05 and the broadcast can be found through wcthunderbolts.com.